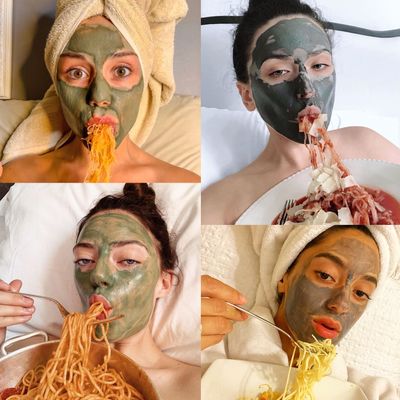 Photo: @leoniescobar/Instagram, @pizzaandpumps/Instagram, @pyperamerica/Instagram, @sallyomo/Instagram
Every day, the gap between topically applying a skin-care routine and ingesting it shrinks a smidge. We're slurping collagen, drinking retinol, and chewing on hyaluronic acid. And now on Instagram, skin-care connoisseurs are mixing savory pasta with tingly face masks, which doesn't sound as buzzy but does sound just as unappetizing.
Pasta and skin care go way back — a full two years, at least. In 2017, supermodels informed us that spaghetti was in, specifically when applied to the décolletage and bare legs. This must've resulted in somewhat glowy results because saucy noodles are back in the beauty spotlight. If you haven't been able to put your finger on what your ten-step skin-care routine is missing, it might be a neck cream, but it's probably pasta.
Instead of rubbing pasta all over like a lotion, try a more targeted application in 2020. First, get some pasta. Consider mixing in extra protein (chicken, chunks of cheese) if you suspect your hair isn't getting enough, and make sure it's pretty hot, like fresh off the stove. The heat will gently steam your skin, making your pores more receptive to whatever mask you paint on, mimicking the best part of any facial (when the facialist fashions a steaming-hot towel tent on top of your face).
Next, apply a purifying face mask, preferably in an unappetizing color, like Diplo's fave. Fashion yourself horizontally and simply place the pasta directly in your mouth — like you normally would when presented with a pan or plate of pasta. Like most skin-care products, you can apply pasta using your clean, bare fingers, but a dinglehopper is recommended. Slurp, chew, swallow, and repeat until it's time to remove your mask (typically 10 to 15 minutes), then carry on with the remainder of your (nighttime?) beauty routine.
If you have sensitive skin that doesn't play well with clay or chemical exfoliators, try skipping the mask portion altogether. Just do your pasta application in a lavender-scented bubble bath for an extra-moisturizing, sensorially confusing experience. Your skin won't feel overly stripped but your pores will still be extra pliable when it's time to apply your serums.
Similar to exfoliating, overdoing pasta can be detrimental. Using too much pasta too often heightens the risk of getting marinara stains on your white sheets, your white pillow, your white bathrobe, your white towel, or your white bathtub. Furthermore, the thought of an arrabbiata-coated noodle mingling with damp, eucalyptus-scented clay residue before it slides into your mouth can spike stress levels, which is notoriously bad for skin.
Do not, under any circumstances, forget to take a picture while the pasta is pre- or mid-mouth if you want to see any visible effects in the long run, but be forewarned that too many pasta-masking selfies on a singular social feed may reduce efficacy.