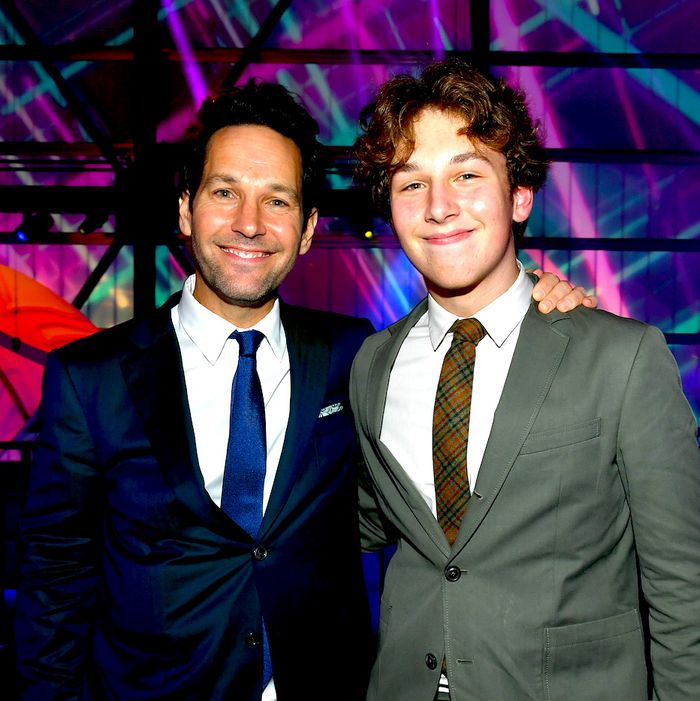 In which Paul Rudd becomes the Small Rudd.
Photo: MIKE COPPOLA/Getty Images for AT&T
Paul Rudd, you probably know. His face has doubtless become indelibly familiar to you, due to never having changed during his 25-plus years of screen acting. But what's confusing, with respect to Paul Rudd's distinctive visage and singular smirk, is that he's not the only one running around looking like that. Yes, it would appear that we have both a Paul Rudd and a Small Rudd on our hands. Evidence:
Yes, that's right. Two of them.
Paul Rudd apparently has a 14-year-old son, full name Jack Sullivan Rudd, whom he brought to AT&T's Super Saturday Night concert ft. Lady Gaga. The pair were also spotted at the Super Bowl yesterday, wearing exactly the same face. Paul and Jack are reportedly humongous fans of the Kansas City Chiefs, you see. Watching them win felt "like I'm seeing colors for the first time in my life," Paul said post-game. "Nothing is better than this."
I must respectfully disagree, though. Setting aside the fact that butts obviously stole the show last night, what's better than a sports win is absolutely finding out that we are sharing this planet with not one but two Paul Rudds. Seeing these pictures feels like I'm seeing Paul Rudd for the first time in my life, only he's a little bit ginger-y and yes, maybe, possibly an inch or so taller than his dad already. Which means — has Paul Rudd become the Small Rudd?
Oh my. Much to think about.