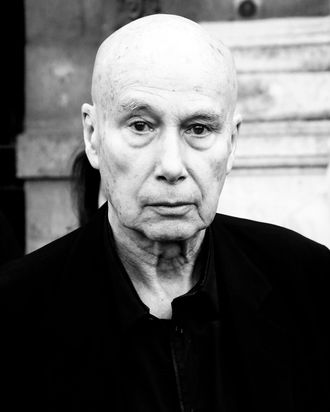 Gabriel Matzneff.
Photo: Jacques Demarthon/AFP via Getty Images
How did a celebrated French writer get away with writing brazen accounts of his sexual relations with minors for decades? That's the question the world is asking about French writer Gabriel Matzneff, who was charged on Wednesday with promoting the sexual abuse of children.
On January 2, Vanessa Springora, a leading French publishing director, published the memoir Le Consentement, in which she details how Matzneff seduced her when she was 14 and he was 50. In the book, she also recalls discovering his nonfiction writings, in which he described his sexual relations with countless other boys and girls. "My goal actually was to lock him up in a book, to catch him in his own trap, because that's what he did to me and that's what he did to many young girls," Springora said on the television show La Grande Librairie. After Springora's book was published, Matzneff was dropped by his three publishers, lost stipends and honors, and prosecutors announced they were opening an investigation.
"This is the Me Too of the French publishing world," François Busnel, host of La Grande Librairie, said, per the New York Times. "A voice has been set free in an environment, the French literary environment, which is male chauvinist, quite misogynistic, and which stays silent — omertà."
The case against Matzneff seems particularly egregious. In 1974, he published the book Les Moins de Seize Ans, which the Times describes as a "full-throated defense of pedophilia." In it, he writes, "To sleep with a child, it's a holy experience, a baptismal event, a sacred adventure." In his 1985 diaries, Un Galop d'Enfer, he writes, "Sometimes, I'll have as many as four boys — from 8 to 14 years old — in my bed at the same time, and I'll engage in the most exquisite lovemaking with them."
As the Times notes, Matzneff wasn't the only prominent writer of his generation who spoke out against age-of-consent laws: French thinkers including Michel Foucault and Jean-Paul Sartre also defended sexual relations with minors.
For years, Matzneff was celebrated in France as a brave voice in the literary world. In 1986, writing in a literary magazine, then-French president François Mitterrand praised Matzneff as a writer who "has always amazed with his extreme taste for rigor and with the depth of his thinking." The same year, when police opened a brief investigation into Matzneff after receiving anonymous tips that he was staying in an apartment with 14-year-old Springora, the detectives wrote off the tips as "the work of a literary rival." Matzneff and Springora later moved to an apartment to hide, which, according to Matzneff, was paid for by fashion designer Yves Saint Laurent. And despite all of this, Matzneff continued to receive acclaim: In 2013, he was awarded the prestigious Renaudot literary prize.
While the the statute of limitations appears to have expired in Springora's case, the Times notes, the investigation into Matzneff is just beginning. On Tuesday, prosecutors announced that police are asking other victims and witnesses to come forward.
Meanwhile, Matzneff, who has been hiding in the Italian Riviera and reportedly didn't appear in court, doesn't appear to feel any remorse. In a scathing interview with the Times the day before he was charged, he condemned those who are accusing him of wrongdoing, saying, "Who are they to judge? These associations of the virtuous, how do they sleep, what do they do in bed and who do they sleep with, and their secret, repressed desires?"
Matzneff's trial, which will also look investigate the role of those who published his books and promoted his career, is set to begin in September 2021. If convicted, Matzneff faces up to five years in prison. He could be called to appear in court sooner, however, if he is charged with a specific case of abuse. Currently, prosecutors are actively searching for other victims, and looking to press criminal charges against the writer.
This post has been updated with additional information.