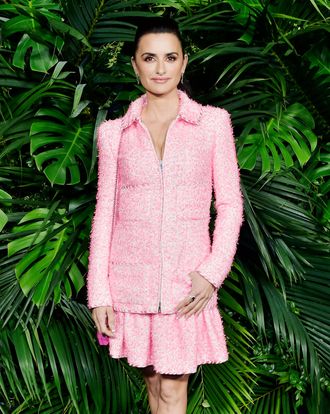 Penélope Cruz
Photo: Getty Images
On the Polo Lounge patio, beyond the welcoming mariachi band, Chanel's 12th annual Oscars-eve party is impassably crowded. Confident besilked shoulders huddle over the white summer couches. I see many tall pants, screaming neon-pink suits, and visible breath. I don't even think it's that cold! But it's Los Angeles cold, and even breath can be dramatic here.
People keep telling each other and me how much they like this dinner "because it's so intimate." "It's intimate," David O'Russell says in his three-piece professor suit, "compared to other things, it's intimate." There is a 142-piece mariachi band behind us and no visible path to get to the bars or the inside or to the bathrooms. I wonder, What does intimate mean to movie people? 
I learn that the varieties of bright, glimmering tweeds are endless, and that diamonds can line a small black suit. Approximately 18 people seem like they could be going to a business meeting in a Pedro Almodóvar film, and there he is! In sweet aqua, head to heel, and shiny black sunglasses.
Penélope Cruz, the maternal force in Almodóvar's Pain and Glory, has very intimidating earrings. They look like crystallized blood drops, though I'm sure they're probably rubies. Her zipped-up pink suit has a softening, bath-mat quality. In front of a wall of decapitated monsteras, I say something unreasonable like, "Ms. Cruz, can I ask you a question about colors and your work!" Cruz is the height of patience. "For every colorful character in Pedro's film, it's never a capricious way of choosing something because he likes it. There's always a reason behind it," she says. "It's why the characters are so believable and so well-written and so themselves. He's taught me a lot in that way — choosing whatever the character needs, not what you like." This feels very wise.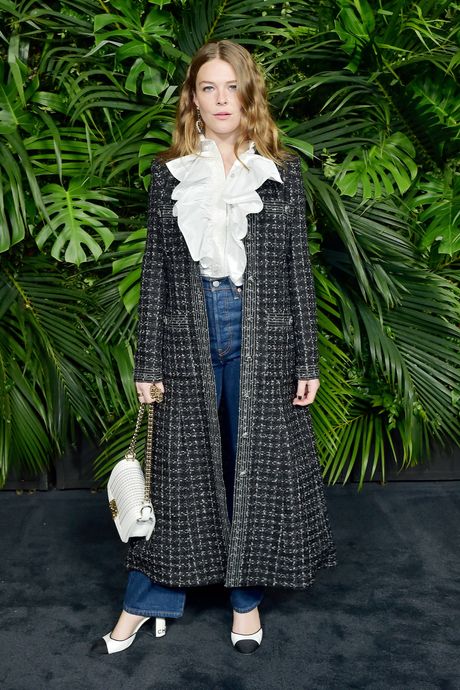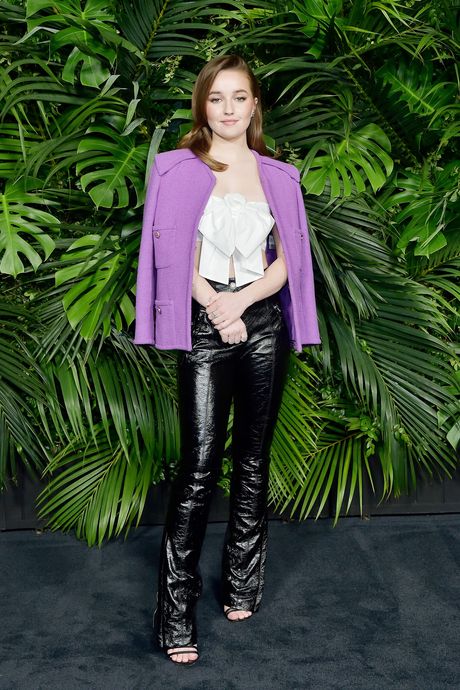 I count Chanel chain bags and get up to maybe 28. Most of them are black and four of them are circles. One is shaped like a phone case; one like a tiny hatbox on a chain. Margaret Qualley's circular bag is partially unzipped! I consider asking Kaitlyn Dever, the performer of a perfect karaoke scene in Booksmart, what I should sing at my friend Ria's karaoke party (which, when I thought of this, I was only 20 minutes late for), but she seems busy, which is cool.
I am unshy about talking to Maggie Rogers, for I am also a Maggie. She tells me that her mother named her after strong women. And I was like, "Who!" And she was like, "I don't know" … And I was like, "You didn't ask a follow-up question?" "It was a lot of family-friend vibes," Rogers says. "Strong women named Maggie and dogs, lots of dogs." We both want people to stop telling us their dogs are named Maggie. We also both wept freely during many movies made by people in the room. "I cry in every movie. I cry in the trailers," she says.
We talk about the sneaky manipulative force of music to get us to cry and feel things. Rogers says that she doesn't have the stomach for horror movies, but loves the soundtracks. "I'm so interested in frequency and the way it makes you feel. As a producer that's what I'm thinking about all the time." "So do you want to score a horror movie?" I ask. "I can't do a horror movie, too scary! A rom-com. Happy pop songs." And then she wishes me "Happy Leo Full Moon!"
I'm tempted to say to "Happy Leo Full Moon!" to everyone I have to gently press on the shoulder to get around. There's a soft cloud of gentle drugs smell but I can't tell you who caused it. I want to tell you so badly, but I can't.