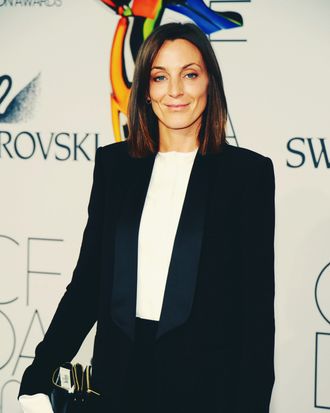 Photo: Rabbani and Solimene Photography/WireImage
Since Phoebe Philo left the house formerly known as Céline in 2017, the fashion world has been breathlessly waiting for her return. Philo's Céline, the lore goes, was a brand that truly got women. She combined minimalism and clean lines with well-placed, whimsical elements like rainbow Nikes and Joan Didion. One of the most distressing things about her departure from Céline was that she had no plans to go to another house. But, according to WWD, our wait may, possibly, reportedly, be coming to an end sometime in the future.
WWD talked to "multiple sources on both sides of the Atlantic" who said that Philo was working on a new collection of her own with an "eco slant and essentials focus." One source said she had been working on her own line ever since she left Chloé in 2006, but it was too expensive, so she put it aside when she went to Céline. Philo did not comment.
Even a rumor of a new Philo brand is exciting. It seems one of the highest compliments you can give a designer is a comparison to Philo-era Céline (see coverage of Daniel Lee at Bottega Veneta and the prevalence of listicles like these). The itch for interesting, minimalist clothing that has the nebulous quality of "getting women" hasn't totally been scratched. As for when you can expect this new brand? Who knows!