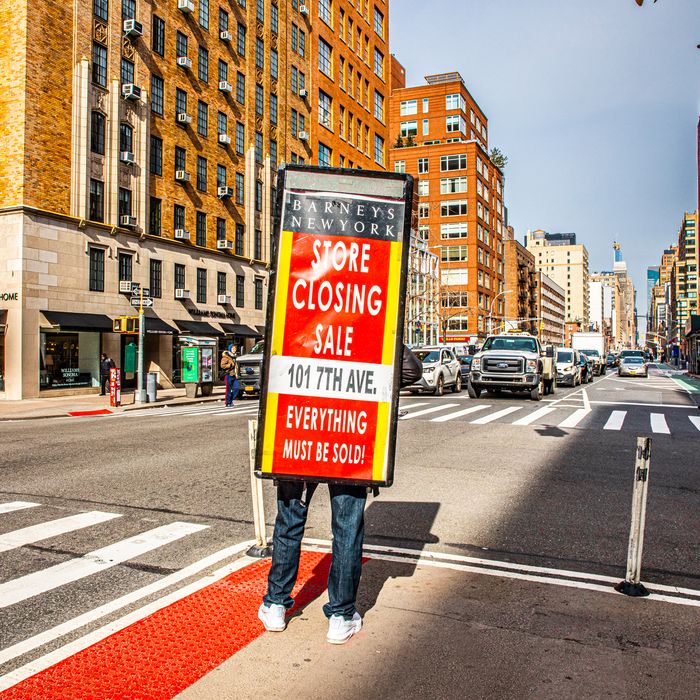 Photo: David Williams/David Williams
A few days ago, if you went to 660 Madison Avenue, you'd be greeted by the death throes of Barneys New York. Clothes and shoes and bags were priced at 75 to 90 percent off. Everything had to go, or it would be put in a garbage bag and unceremoniously tossed on the street.
Today, the space is quieter. You can no longer access any of the shopping areas; a tight corridor of makeshift walls leads you to Fred's, the restaurant on the ninth floor, which is still open. Even though you're already in the building, there are ads for Fred's everywhere, as if to remind you that one aspect of the legendary department store is still kicking. (The restaurant will remain open indefinitely.) The clock on the building's façade only has four numbers lit up, but from the street you can still see a "Maison Margiela" sign in the second-floor window — a reminder of a time that Barneys was Manhattan's biggest tastemaker.
The demise of Barneys has been a grim, drawn-out spectacle. It filed for bankruptcy in August and was acquired by Authentic Brands Group in late October. Now, it looks like it will live on in zombified form: All the stores will close, but it will exist as a pop-up inside a former competitor, Saks Fifth Avenue. For the last several months, shoppers have been ransacking the liquidation sale, which was aggressively advertised with red-and-black "STORE CLOSING" signs.
Photographer David Williams has been capturing the last days of Barneys for the Cut. Below, his look into the death of a fashion giant.