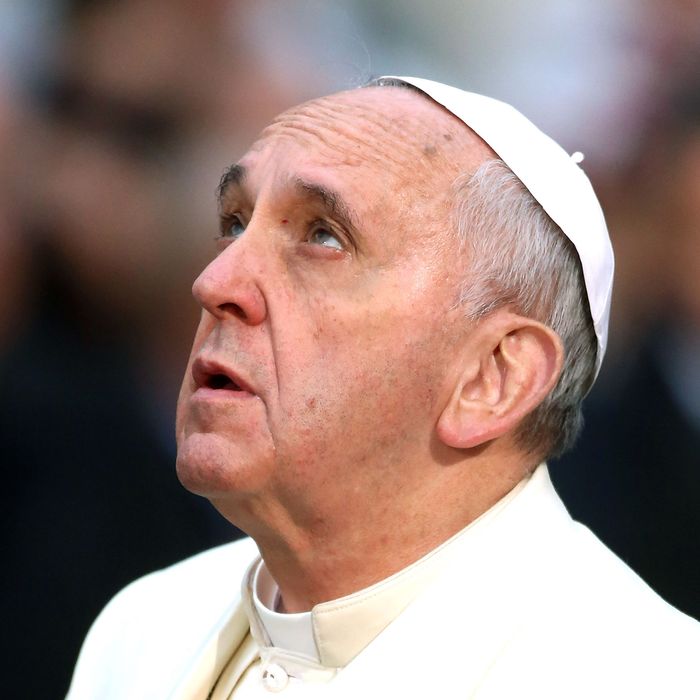 Pope Francis
Photo: Franco Origlia/Getty Images
Pope Francis, the pope — the one person who can reply yes to the question, "Who are you, the pope?" — has asked his flock to give up something extremely specific for Lent. Please, he said, for the love of God, of all things holy, literally (I'm paraphrasing here), I'm begging you to log off. Cease thy posting. Delete thine accounts.
In his annual address to tens of thousands of people in St. Peter's Square on Ash Wednesday, the day that marks the start of Lent, Pope Francis asked people to give up "useless words, gossip, rumors" and "tittle-tattle," because "we live in an atmosphere polluted by too much verbal violence, too many offensive and harmful words, which are amplified by the internet." "Today," he continued, "people insult each other as if they were saying 'Good Day.'" I guess the pope has had his fair share of trolls and possibly did not enjoy all the memes of late about him slapping that woman's hand away.
Damn, now I know how it feels to be called out by the pope. He has caused me to consider whether I am morally obligated to be less online. Does he really think I am capable of refraining from all my useless words, especially my tittle-tattle and rumors, for 40 whole days? Imagine being so enlightened and free of sin that you would hear a really juicy piece of gossip, and instead of tweeting it, you would simply process its temptations and move on. I will almost certainly never get there, but thank you pope for the recommendation.