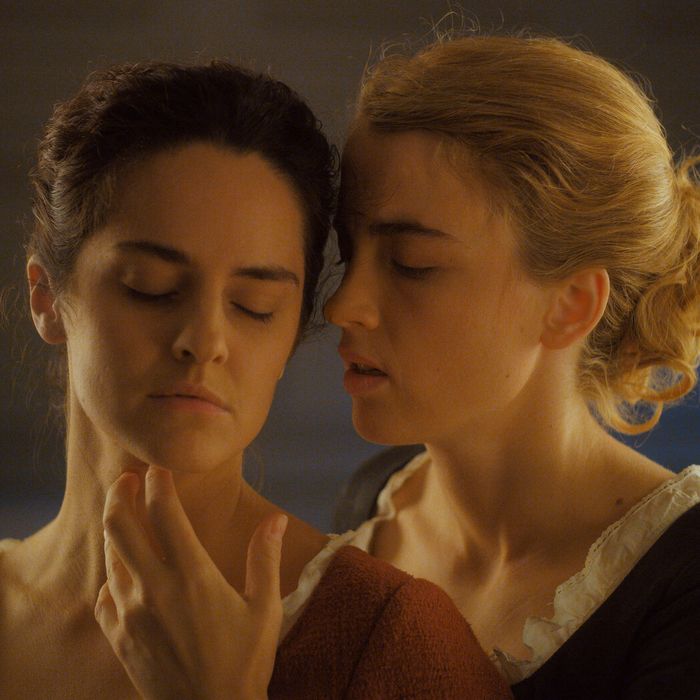 French director Céline Sciamma's Portrait of a Lady on Fire has been widely and rightly received as one of the most masterful films in recent memory. It's also one of the most sensual: The plot, which centers on an illicit romance between an aristocrat and the woman hired to furtively paint her portrait in 18th-century France, is so sexy, that when the women longingly gaze at each other approximately every four minutes, you feel as if you've stumbled upon an intimate scene you're not meant to witness.
But apparently, nearly 67 million people disagree with me in my estimation of the film. In a recent interview with the Guardian, Sciamma said the lesbian period drama has generated buzz with audiences around the world, except for in one country: her native France. "They don't find the film hot," Sciamma says, and then elaborates, "[They think] it lacks flesh, it's not erotic."
While Sciamma doesn't come off as dejected over this fact — she says France, with its "strong culture of patriarchy," has yet to grasp the concept of the "female gaze" or even a "feminist film" — the revelation has left me indignant.
I do not consider myself an authority on le cinéma, but I do so on onscreen sensuality. And France is so blatantly wrong here. In one of the film's early sexually tense scenes, Heloïse (the titular Lady on Fire) sits next to Marianne (the painter) as she plays piano, staring directly at her as if mesmerized. The way the women later press their foreheads against each other on the beach, following a charged lovers' quarrel, is devastatingly beautiful. That small physical moment proves the indisputable fact that these women are desperately, painfully in love with one another.
And while I don't have the movie in front of me, I'm 97 percent certain that the scene in which the women rub a hallucinogenic drug into each other's armpits before having sex contained quite a lot of flesh. Yet despite its palpable eroticism, it's not at all pornographic — a fate so many lesbian sex scenes have fallen victim to. Maybe that's why the French see the film as lacking? Their loss!
Also, at risk of wading into territory where I don't have the language to accurately express what I'm trying to communicate, everything in the film just looks and sounds beautiful: the rich blue water off the coast of Brittany. Heloïse's resplendent green gown. Her piercing eyes. All of the Vivaldi. Even the soft scraping noise Marianne's paint brush coming in contact with the canvas.
And France considers itself to be an authority on romance? Okay.