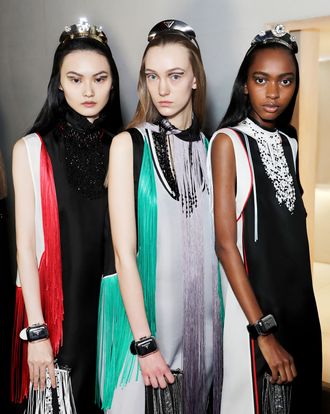 Sharp headbands at Prada fall 2020.
Photo: John Phillips/WireImage/Getty Images
The last time Prada sent headbands down the runway, they slowly took over the world, one cushioned head at a time. We might as well surrender now to the newest version that decorated models' heads at Prada's fall 2020 show — mainly because they're very pretty, but also because they look menacingly sharp.
The new Prada tiara adds some impressive height to your head, just like its predecessor, the girth-y padded headband, but that's where the similarities stop. 2019's headband was like a soft pillow that cradles your head and wants someone to pet it. Fall 2020's headband is hard, shiny, and sharp, like a mezzaluna knife that cannot wait to slice through some pizza or the hand of anyone who tries to pet a headband.
It comes in two versatile styles: a bejeweled, cut-out mezzaluna for the Blair Waldorfs of the world in search of a new crown to symbolically strike fear in their enemies, and a sleek, monochrome mezzaluna for those looking to accessorize their cult uniforms and strike fear in their enemies in a more literal manner. Both versions have the ability to reflect light, which makes you look important, wise, and enlightened — another useful element for when you want to exude power via head-accessorizing.
If you're not ready to leave the comfort of your spongy padded headband yet, take a cue from Fendi fall 2020 and try wearing your headband upside down to switch things up. Baby steps.