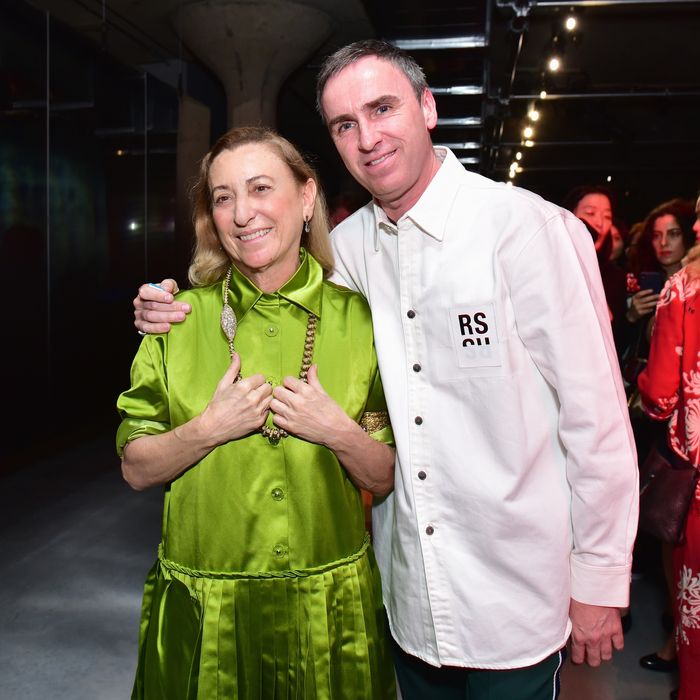 Photo: Sean Zanni/Getty Images
Raf Simons is joining Prada as co-creative director with Miuccia Prada. The move, effective April 1 — with the first collection debuting this fall in Milan — ends months of speculation about Simons's plans. Still, the news of a partnership came as a bit of a stunner.
"We think it's probably the first time that two designers, two mature designers, decided to work together," Prada said in a telephone interview with Simons early this morning, ahead of a Milan press conference. "I think it's a very nice gesture for promoting creativity and culture."
The two have a long, intertwined history, as well as a respect for what might be called conceptual fashion. They also connect in their passion for contemporary art. And Simons once worked for Prada's husband and business partner, Patrizio Bertelli, when he chose Simons in 2005 to be creative director of Jil Sander. At the time, Simons was an influential men's designer based in Antwerp with a relatively small but discerning fan base compared to Jil Sander's. It was Simons's first job in the competitive arena of women's fashion, and it changed the course of his career. In 2012, he went to Dior, and then in 2016, to Calvin Klein, which he left in December 2018.
Simons says that Bertelli contacted him right after the Calvin breakup. "Mr. Bertelli emailed me. Then he called and he asked me to come to Milan. It was a very open dialogue about Prada's future in general." Later, there were similar discussions with both Bertelli and Prada. As Simons said, "Then out of that came this thinking, Why not do it together?"
One of the big questions that designers have been asking over the last five or six years is this: How creative can a creative director be in a system that demands more and more collections, more and more marketing innovations? Simons, 52, and Prada, 70, both said this topic was part of their discussions.
But Prada insisted that the appointment of Simons is not an overture to her retirement. Quite to the contrary.
"Oh, no," she said. "To do better, to work harder — I'm very interested in this."
Simons recalled that when he joined Jil Sander in 2005, Prada told him, "That's good that you're coming to this city, because now I have healthy competition." This morning, he added, referring to his second move to Milan, "It's kind of like direct competition, but to get ideas for the Prada brand."
The two designers have not exactly determined how they will hash out a collection, though both are lightening conversationalists and connected generally to what's happening in European culture. Simons noted that when he worked with the artist Sterling Ruby, for both his Raf Simons label and Calvin Klein, it was more of a partnership than a one-off collaboration.
"I said to him, 'Let's just make it very simple. If we both don't like something, then we don't do it.'"
For Simons, this is a chance to return to the women's fashion arena in Europe and to be involved in a brand he has thought a lot about over the past 20 or so years. It also removes some of the sting of the Calvin Klein period, not that he has particularly dwelled on it. For Prada herself, who loves dialogue and humor and bold ideas, it's a chance to bring a different energy and excitement to Prada. And for the industry, it's a reminder that innovation is the driver, especially for the people who ultimately matter — the consumers.