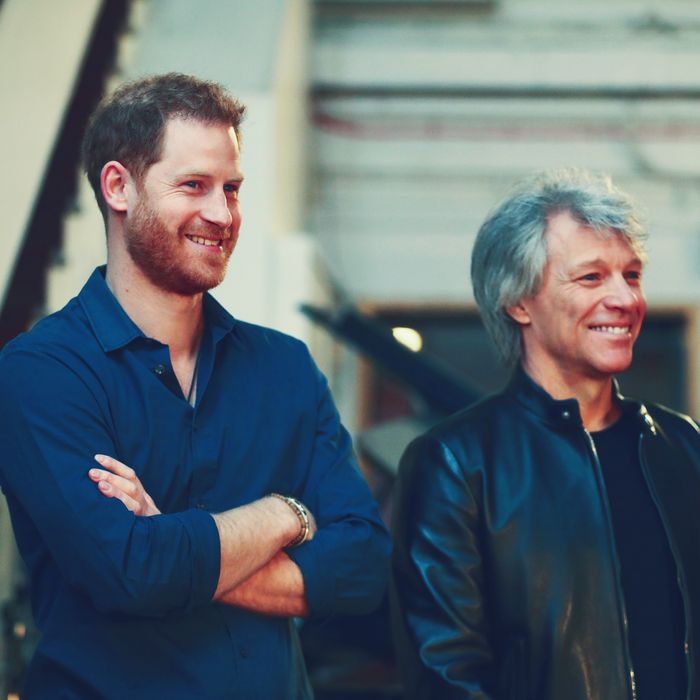 Protégé (left) and mentor (right)?
Photo: WPA Pool/Getty Images
Since Harry — it's just Harry now — announced his departure from a life of monarchy, the public has wondered what a former prince might do for work. Per the terms of his arrangement with the Queen, he and Meghan Markle must rebrand as average humans, but what does that mean for Harry's professional options? Does it mean launching a "charitable entity"? Signing onto a Goldman Sachs speaking series? Making a bid for best new artist at the 2021 Grammys?
I personally am holding out for the last item in that list. Harry, you see, has recently been spotted in the studio, the Beatles-famous Abbey Road Studios no less, with Dad Rocker Jon Bon Jovi. Behold the visual evidence:
And again:
So, yes, admittedly the studio time served a higher purpose, that of Harry's beloved Invictus Games, an athletic competition he founded for wounded veterans. Harry and Jon Bon Jovi were recording the Invictus Games Choir's rendition of "Unbroken," rather than specifically working on Harry's debut album. Ahead of their meeting, however, Jon Bon Jovi announced his intention to "hand [Harry] a tambourine and see what he's got going on." Having now collabed with the Duke of Sussex, Jon Bon Jovi confirmed that what Harry has going on is "a set of pipes," which seems like a promising place for a budding rock star to start.
As for what the former senior royal's stage name would be, Jon Bon Jovi has suggested "The Artist Formerly Known as Prince," which is obviously taken, although "The Harry Formerly Known as Prince" isn't. Just something to think about.