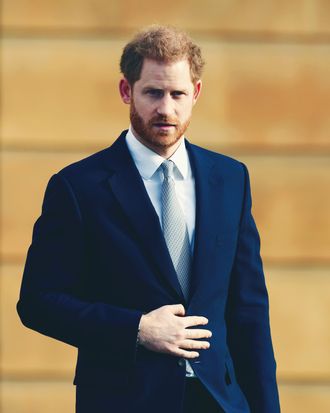 Prince Harry.
Photo: Karwai Tang/WireImage
While Prince Harry appears to be content with his decision to step down as a senior royal and pursue a quieter life with Meghan and Archie, his move hasn't been without its difficulties. For example, according to an insider who recently spoke with the Sun, Harry "misses his friends, of course." However, the insider revealed that, even while he's been in the Great White North, Harry's been keeping up with the lads.
"He has been in WhatsApp Group with his mates for years and he uses that more than ever now to keep in touch and send pictures," the insider said. "The group is always sharing funny video clips they find as well."
Yes: Prince Harry, a.k.a. Henry Charles Albert David Mountbatten-Windsor, formerly known as the Duke of Sussex, almost known as the Earl of Dumbarton, has a boys' chat. According to the insider, along with photographs, "the group is always sharing funny video clips they find as well," which sounds about right. I wonder if that harrowing video of Prince Edward doing something ungodly to a cake made the rounds in the chat?
I'm desperate to know what the lads gab about. In general, I like to imagine that boys' chats are overwhelmingly wholesome, replete with touching proclamations about how much they love each other, and book recommendations, and maybe the occasional selfie? I don't know. Seeing as Harry loves to dote on Meghan — recently evidenced by a viral compilation video of him fixing her hair, which I'd like to imagine Harry proudly sent to the boys' chat this week — I'm guessing he probably gushes about her a lot.
But then again, Prince Harry was a bit of a rowdy lad back in his bachelor days, so I imagine that he is occasionally roasted with those infamous photos of him cavorting naked in Las Vegas.