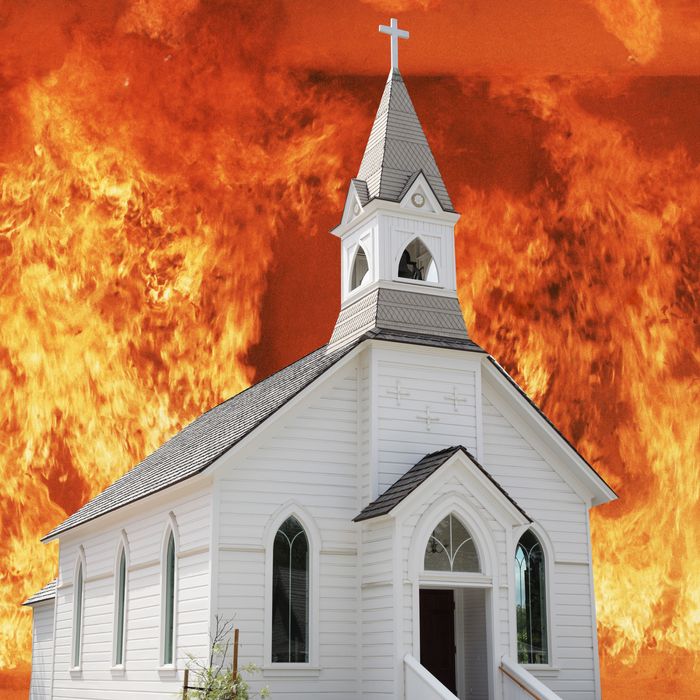 I do.
Photo: Getty Images
Big nuptial news for readers who love their partners and also Satan: A very metal reverend is offering a free group wedding to 29 open-minded couples at 2:29 p.m. on February 29 (i.e. 2/29), in Hell … Michigan. The numeric significance is purportedly a nod to the leap year, but considering the too-good-to-be-true nature of this deal — weddings are expensive! — I think you would be right to suspect some spell-casting is afoot.
"Imagine having only to remember your wedding anniversary every four years," Reverend Vonn, Minister of Hell and potentially your wedding officiant, explained. "Couples will be joined in whatever weather Michigan gifts us with that day. The ceremony will take place outside the chapel. Bring family and friends to witness your special day," which is to say, your ten-minute group wedding.
Perhaps it's a bit rushed, but keep in mind that Reverend Vonn's regular rate is $106.66 per hour (emphasis absolutely mine), so this is a steal. A kindness, really. Almost like Reverend Vonn is offering you lasting love and happiness and all you have to do is sign your name in her book, right here. I mean think about it: What compelling reason is there to pass up 29 couples' worth of income? Motiveless generosity? Genuine excitement about the leap day? Or maybe there's something significant about a specific number of people congregating at a specific spot on a specific day at a specific time; something like a key that opens the portal. Is this some kind of scam to steal your soul? There's only one way to find out: text 810-623-1125 ASAP to secure your spot. They're reportedly filling up fast, and surely you won't want to miss the Hellmouth.