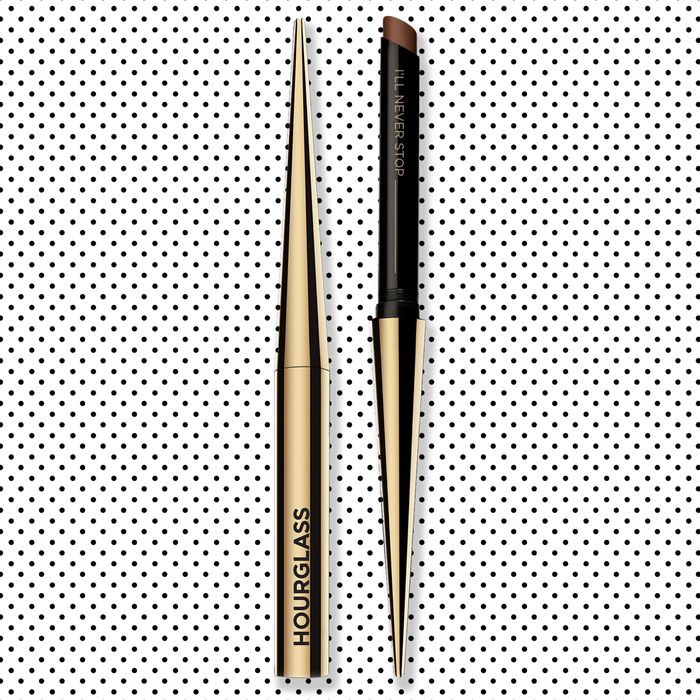 Photo: Courtesy of the Retailer
Watching the Oscars the other night, I found myself mesmerized by a makeup category I usually stay away from: lipstick. There were so many gorgeous lips painted in my favorite shade, nude. Olivia, Saoirse, Natalie, Zazie, Cynthia — all of them wore colors that seemed to say, No, it's not lip balm. It's definitely lipstick, but it's pretty much the color of my own lips. Only better. It made me want to start doing "only better," too.
The difference between lip-balmed lips and nude-lipsticked lips is like the difference between a bare fingernail and a fingernail that's been buffed. It is clear to all that an effort was made. So I made an effort and found Hourglass's Confessions collection.
The collection has a lot going for it. The textures are really smooth despite their heavy pigment levels. Among the 30 shades, there is a bold red, a bright coral, a fuchsia, and a deep plum, but there are also plenty of nudes for whatever your personal nude may be. Mine is the "beige nude," whose official shade name is I'll Never Stop.
I particularly like the slimness of this lipstick, which is no wider than a quarter inch. Applying such a small circumference over my lips, I feel significantly less likely to mess everything up by coloring outside the lines. The process itself also feels more delicate. Being a demure lipstick wearer, this suits me.
The coolest part, though, is the showy and very pointy gold vessels in which these lipsticks are encased. They're made to be refilled (for $22), and can be done with one easy click. As I grow ever more comfortable with my nude, I can sense that an upgrade to something more bold — like maybe a dusty rose or even a pink taupe — is just around the corner.
If you buy something through our links, New York may earn an affiliate commission.