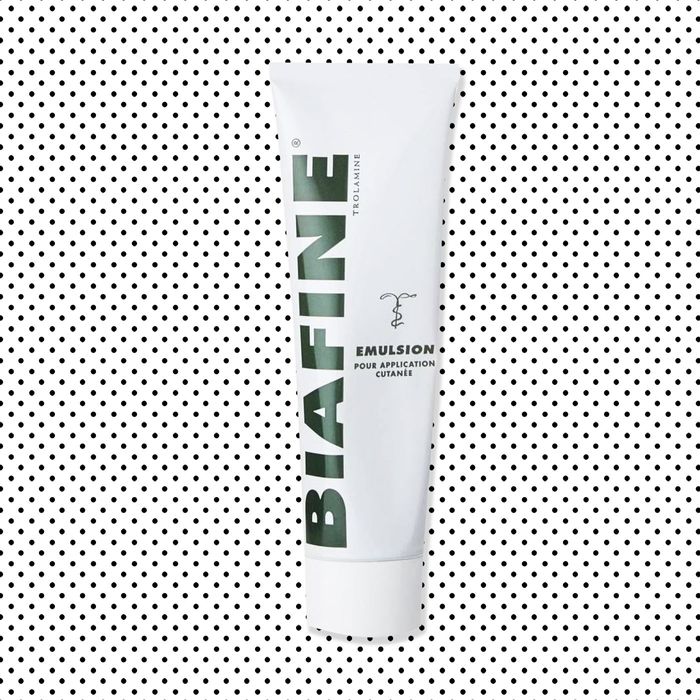 Photo: Courtesy of the Retailer
Let me tell you a secret: If you're visiting one of Paris's legendary pharmacies, the kind stocked with French-girl beauty products, there's really only one item you need to buy. This isn't because French drugstore skincare products aren't amazing. It's just that you can buy everything via the internet now, at comparable prices, except for this one thing.
I'd long heard about the wonders of Biafine. Ines de la Fressange, Elle Macpherson, and Lara Stone use it as moisturizer. I've also seen it backstage at fashion shows, where it's used as an all-purpose ointment and burn treatment. Hairstylist Clara Leonard tells me that it's helped her treat curling iron burns on more than one occasion. My friend Samantha Moray, who has the coolest mom I know (she has a bowl cut, enough said), asks her to stock up on it whenever she travels. In 2016, when Into the Gloss published a rumor that Biafine might be discontinued, its message board was filled with expressions of despair.
But I didn't pick up a tube until one of my favorite dermatologists, Dr. Shereene Idriss, mentioned in a series of Instagram Stories that Biafine is amazing for hyperpigmentation. In my experience, pimples don't merely visit — they move in and save the Wi-Fi password, which means my acne scars can last up to three months. It doesn't matter if I use acne stickers or avoid popping the zits; they still get comfortable. So I tried an experiment on a small constellation of travel-related zits I received a few weeks ago. One got Biafine, the others didn't. And truly, when I woke up the next day, the Biafine-d scar was noticeably smaller by half and flatter. Two days later, I have only a tiny pinprick remaining.
Yes, I still use retinoid and Vitamin C to lighten up dark spots. But the Biafine is great at preventing them before they even happen. Unfortunately, the original Biafine Emulsion comes in and out of stock on Amazon and isn't easily available at other retailers (there are other Biafine diffusion lines, which I haven't yet tried). But if you or someone you know is going to France, it's widely available at every drugstore. It costs about $15, and it could potentially save you months of pricey serums and lasers.
If you buy something through our links, New York may earn an affiliate commission.