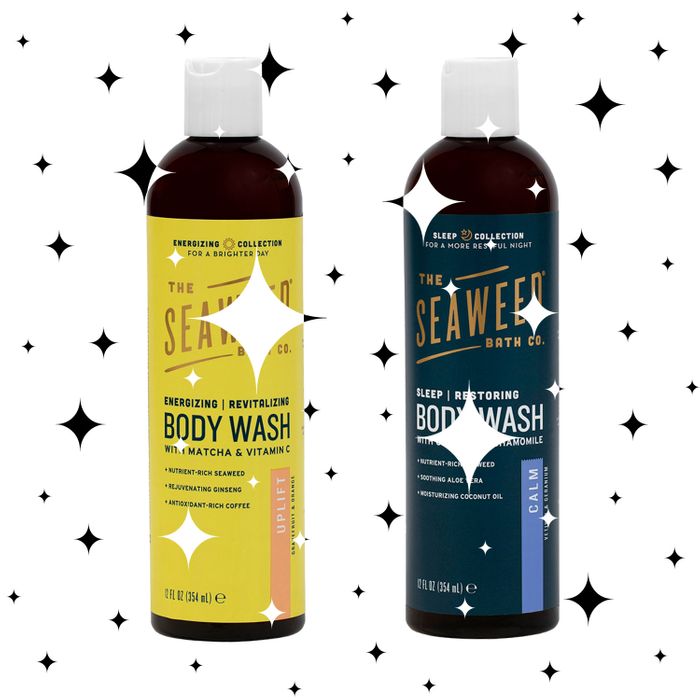 Photo: Courtesy of the Retailer
Body washes are meant to do three things: cleanse, of course; help keep your skin feeling moisturized; and, well, smell nice. I rely on that last attribute most because I consider my body wash to be kind of a primer for deodorant; sometimes, I skip deodorant entirely and count on body wash to do the job on low-stress days, like weekends.
I'm a longtime fan of the body washes from Seaweed Bath Company, a clean brand, partly because I like using them to bookend my day. The Peppermint Eucalyptus Body Wash has a bracing freshness that helps wake me in the morning, while the soothing Lavender Body Wash offers me a moment of day-ending meditation during my pre-bedtime bath.
Apparently the product team at Seaweed Bath read my mind, because they've just launched two new body washes that are supposed to be used in the morning and at night. There's Uplift Energizing Body Wash, housed in a sunshiney yellow bottle and scented with an equally bright fragrance of orange and grapefruit. And there's the Calm Sleep Body Wash, with a fragrance that's complex but not enough to keep you awake. Since they already have the aforementioned lavender in their arsenal, they went for a more unusual blend for Calm, using a warm, woodsy mix of vetiver and geranium oils, but there is also patchouli oil, cedarwood oil and — you can't escape it — lavender.
This mix of oils (which are in all of their body washes, but vary due to their scents) helps prevent my skin from feeling dry despite my three-baths-a-day habit. That's not to say shower lovers won't find these equally useful. Some of us just prefer the idea of body cleansing in the supine position.
If you buy something through our links, New York may earn an affiliate commission.