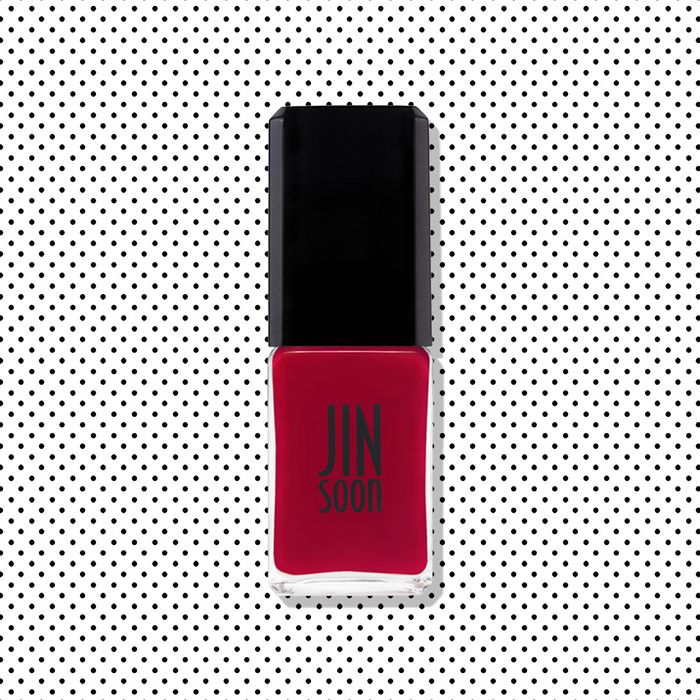 Photo: Courtesy of the vendor
The sight of chipped nail polish fills me with existential dread. There's nothing like a perfect, glossy manicure with a chunk missing to remind you that everything is transient. It's bad enough that I stopped painting my nails for a full eight months.
But two weeks ago, I gave myself a manicure. I was bored. I knew I was being a little dramatic about my nails. And quite simply, I liked the color of Jin Soon's Vanity and wanted it on me. Described as a "hot red," the color made my nails look like polished jewels. I liked the small delight of seeing them glow at me while I did mundane things like type, bring recyclables to the basement, try to cram a large pot into the dishwasher, and open bills. I felt even better when several strangers complimented me on them. Jin Soon Choi, Marc Jacobs's favorite manicurist, developed the shade; she told me she designed it to look like a red from a classic Hollywood movie, with its balance of blue and red undertones.
Of course, I did get chips — a respectable (and not overly terrifying) ten days later. I've since learned that the Japanese have a phrase to describe embracing the beauty of impermanence called mono no aware. Wikipedia explains that's it's about "the ephemeral nature of beauty — the quietly elated, bittersweet feeling of having been witness to the dazzling circus of life — knowing that none of it can last." It applies to cherry-blossom season, photos of young beautiful Marlon Brando, and red nail polish. Nothing can last forever, but, hey, it's nice while it does.
If you buy something through our links, New York may earn an affiliate commission.