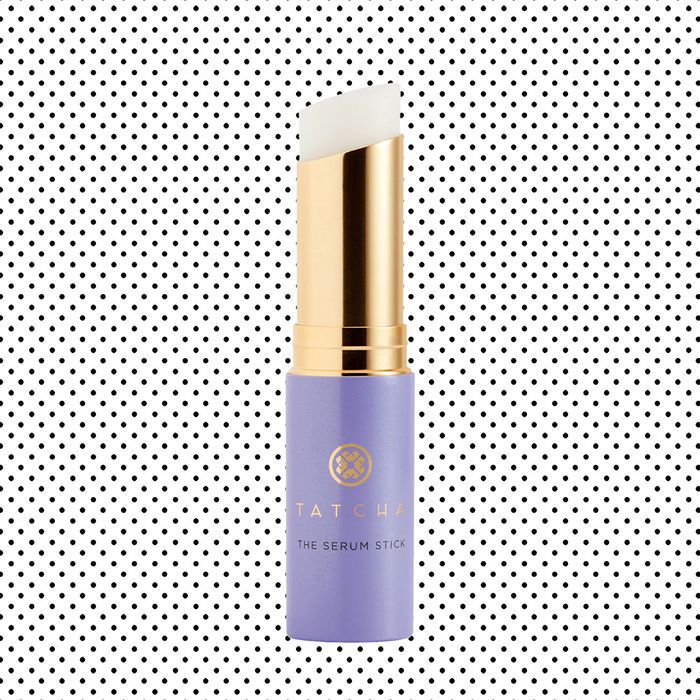 Photo: Courtesy of the Retailer
Everyone loves Tatcha, even Meghan Markle. The skin-care brand is a Sephora customer favorite thanks to its emphasis on dewy skin. (One beloved product is literally a moisturizer named Dewy Skin Cream.) Tatcha's newest release isn't a typical moisturizer but a solid serum that comes in the form of a stick, meant to allow you to do moisturizing touch-ups so you can become dewier "on the go." (In 2020, you can be dewy anywhere.) The Cut had five team members test it out. Here's what it was like using a giant "ChapStick" for your skin.
Erica Smith, Beauty Writer
I like the idea of this product because I like beauty products that are sticks, but it wasn't quite doing it for me. It's the perfect size for swiping along your cheeks and eyelids, but I'm not a fan of the consistency. When I think of the words "Tatcha " and "serum," I picture pure dewiness. This felt more like swiping a ginormous ChapStick across your skin.
It does get you a pretty, moist-looking glow immediately after applying, but my face wants what it wants, and that's something more cooling and wet. It's a very pretty beauty stick, but I'm going to go back to watering my face with facial spray at 3 p.m. to look and feel more alive.
Sangeeta Singh-Kurtz, Senior Writer
Serum in stick form is not something I think I'd ever want or need. I'm not into the idea of "touching up," and I "serum" at night. But I did pat this around my under eyes — parched by concealer and cold weather — after work one day before heading to an event. I was pleased with the results, which made me look, if not freshly made up, then at least much dewier. I experimented more: I patted it over my creasing forehead and tried applying it as a cheekbone highlighter. With it, the freshness of my early-morning lotioning returned, and I regained a subtle glow without the glitter and excess of a highlighter.
I liked this effect, and also found the stick worked well as an actual "serum" when applied directly to the skin in a night routine. Because it's extremely convenient — it's sort of like a jumbo lipstick tube — I plan to bring this in lieu of my actual night serum on a trip next week.
Daise Bedolla, Social-Media Editor
I love the idea of a serum stick in theory. It sounds especially appealing when I think about all of the skin-care bottles I pack when I travel. But in practice, the idea was lost on me. When I did remember to use it, by applying it over whatever sunscreen and makeup I had already applied during the day, I wondered whether the stick was locking in the dirt. I ended up using the stick mainly as a highlighter on my cheekbones when I needed a quick touch-up after work, but I can't say that I saw a dramatic difference.
Sarah Spellings, Fashion Writer
As a Tatcha fan (I love the exfoliant), I was excited to use this. But I'm not really sure what it does. It feels nice, but whenever I put it on to refresh, it took off some of my makeup. I also didn't find it to be that moisturizing. Maybe I was misapplying it — I put it on my brow bone and cheekbones, like I would a highlighter. But I didn't notice a big change one way or the other.
Kathleen Hou, Beauty Director
Imagine if an Elmer's glue stick wasn't sticky and could make you look more dewy. That's what this does. I liked the sensation of gliding this product on my skin — it has a slightly cooling, refreshing wet feeling. Visually, it gave my cheekbones a very subtle glow, and when I used my fingers to pat it along my under-eye creases, it softened them out. The effect was sort of like a targeted midday mist, without actually wetting my face. It's also great if you travel and don't want to bring along something gloppy that could spill.
But ultimately I only liked — not loved — this product, because the effects don't seem big enough. I wanted more of everything: more dewiness and more feeling.
If you buy something through our links, New York may earn an affiliate commission.