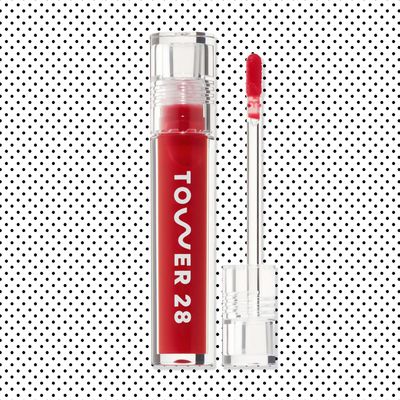 Photo: Courtesy of the Retailer
Of all the beauty products, I've generally found lip gloss to be the most untrustworthy. They're all marketed as "less sticky," and because I like to see the good in all things, I'll believe them. But they turn out to be sticky with the truth. Sticky is not a spectrum — either you're sticky or you're not.
But you can trust the Tower28 glosses. They give you the glossy, shiny lips of a music video vixen and are honestly, truly, not at all sticky. Although I'm generally more of a lipstick person, I've come to appreciate the ease of a gloss. Lip gloss doesn't smear, stain white dinner napkins, or require a mirror to apply. They work equally well if you're doing night-out looks or "no-makeup-makeup." They also look good on everyone, whether you're a teenager or an adult. Tower 28's come in a lot of sheer, very flattering colors, but my current favorite is Spicy. One coat makes my lips look like pretty, rose-tinted stained glass, and it has the moisture and softness of a lip balm. (Rio of the Strategist is also a fan.)
The gloss is also vegan, cruelty-free, and in the "clean" section at Sephora. The Tower28 brand was specifically formulated for those with sensitive skin in mind, so it doesn't include many common irritants often found in lip products, like lanolin, beeswax, menthol or camphor.
Although this lip gloss is pretty close to perfect, I'm sorry to tell you that it still does capture strands of hair. Beware on especially windy days, but you're otherwise safe.
If you buy something through our links, New York may earn an affiliate commission.