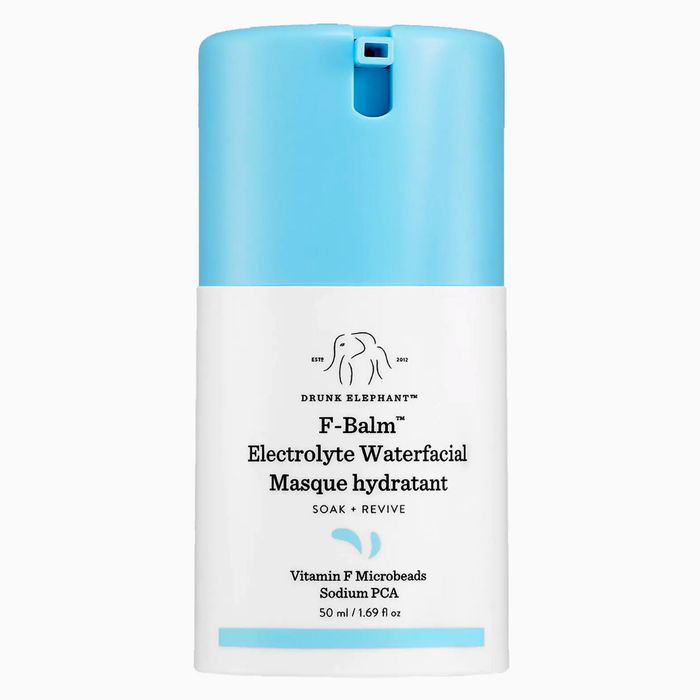 The mask.
Photo: Image courtesy the retailer.
Dry January is technically over, but welcome to Dry February — the month when everyone's skin is parched. In a well-timed release, Drunk Elephant just put out F-Balm, a new overnight mask that sounds like Gatorade for your face. Much like Gatorade, it contains electrolytes (four of them, to be exact) and is meant to be hydrating and cooling. Here's what several Cut members thought after testing it out.
Erica Smith, Beauty Writer
I really like this mask because it's humble and does what it says it'll do (cool, quench, make your skin soft and supple). When dispensed, the formula looks, feels, and smells like one of those unsexy, fragrance-free lotions you get at the drugstore. But once you apply it to your face, things get fun. The formula suddenly gets slipperier, like someone wrung out a K-beauty sheet mask into the container when you weren't looking.
But although it's called a "waterfacial," it isn't drippy or anything. My skin quickly drank up the formula and felt positively lithe, a word I've never used before to describe skin. Using it, I haven't woken up with a face that looks glowier/dewier/plumper, but my skin always feels better. Physically, it feels softer to the touch; emotionally, it feels supported and taken care of, especially in the middle of winter when things get dry.
I also love a good DE pump, so this mask gets an extra gold star for the fun, mess-free packaging.
Izzy Grinspan, Deputy Style Editor
In an attempt to be a better beauty journalist, when I first tried this mask, I jotted down my thoughts in the Notes app. Later, I realized the notes almost formed a haiku: "5 pumps was too much / felt cool, obviously / I looked moist the next day." I'd like to say that's all you need to know about F-Balm — it goes on feeling pleasantly cool, you look great in the morning, the recommended number of pumps released too much formula for me — but for objectivity's sake, I should admit that I broke out a few days afterward. It's impossible to say if the breakout was related to the F-Balm, so I'll have to experiment with it some more. If I have further conclusions, I'll be sure to write a haiku.
Kathleen Hou, Beauty Director
As overused as this expression is in beauty writing, this product feels like "a cool drink of water." But not regular tap water, even though NYC tap water is great. This cool gel feels like alkaline glacier water placed into a crystal glass with two symmetrical hand-carved ice cubes.
As the instructions direct, I slathered a generous amount of this over my moisturizer for two weeks. Even though Drunk Elephant suggests you use four to five pumps, I found that to be entirely too much — two pumps was sufficient to cover my neck and face. It blended into my skin really well. In fact, it almost felt like nothing, but a pleasant kind of nothing. Yes, this was sort of weird, but I don't want to go to bed actually feeling moist.
Every morning, I was greeted by soft, cushy-feeling skin. If you want to be extra gentle toward your skin, use this every night to make your face feel as cared for as baby Archie's bottom. Otherwise, use it any time you feel dry and neglected.
Sarah Spellings, Fashion Writer
Like all Drunk Elephant products, this one made me feel very fancy. I tested it by making a real Drunk Elephant sandwich, using their whipped moisturizer with the T.L.C. Framboos serum. The new F-Balm went on last. It felt nice, and I didn't notice any smell, good or bad.
Because my skin (around my cheeks and eyes mostly) has been so dry this winter, I've taken to putting an oil or emollient like Aquaphor over my moisturizer to lock in hydration, per advice from Kathleen. F-Balm felt as heavy duty as Aquaphor, but as effective as using marula oil. I didn't find it incredibly showstopping, but would be a nice addition if I didn't already own the oil.
Bridget Read, Writer
This feels lovely on! I am not sure if I notice a visual difference using this. But when I put this on, I definitely go to sleep feeling like moisture has been locked in on my dry, dry face, so it's worth it for that.
If you buy something through our links, New York may earn an affiliate commission.