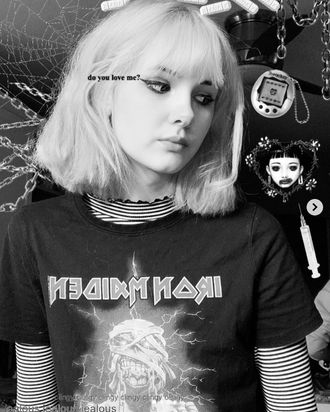 Bianca Devins
Photo: Bianca Devins/Instagram
On the morning of July 13, unimaginably grisly photos started to go viral in dark corners of the internet, according to the New York Times. They reportedly showed the dead body of 17-year-old Bianca Devins, who prosecutors say was murdered by a 21-year-old man named Brandon Andrew Clark.
While Clark originally pleaded not guilty to the murder of Devins, on February 10, he took a plea deal. "[We're] relieved," Devins's mother, Kim Devins, told Rolling Stone. "I'm glad we don't have to go through the trial."
Here's everything to know about the case.
Who is Bianca Devins?
Devins was a 17-year-old girl from Utica, New York, who has been referred to as an "e-girl," a demographic of teen whom BuzzFeed News describes as "a new kind of cool girl" who tends to spend time on the social-media platforms TikTok and Discord. (Devins had a small following on Instagram under the handle @escty, which, since her death, has amassed a following of more than 150,000.) She also, per Rolling Stone, used to post regularly on Discord, as well as on 4chan, an image board where incels and members of the alt-right lurk. (No reporting has suggested that Devins shared these groups' views.) According to HuffPost, Devins had recently graduated from T.R. Proctor High School and was set to attend Mohawk Valley Community College, where she planned to study psychology; ultimately, she wanted to help adolescents with mental-health issues, as she struggled with them herself.
While Devins was shy at school, she had a large number of friends she'd met online, many of whom remember her as a supportive and caring person who helped them deal with unwanted attention from older, abusive men on the internet — something with which Devins regularly dealt. An 18-year-old girl from Tennessee told HuffPost that Devins "had experience with… people who manipulate and harass younger girls."
What do we know about the events leading up to the murder?
The most detailed alleged account comes from Chels, a 20-year-old woman who met Devins on Discord three years ago. In an interview with Rolling Stone, Chels said that on a Saturday night in July, Devins and a 21-year-old man named Brandon Andrew Clark traveled to New York City to see a concert by Nicole Dollanganger. Once they arrived at the venue, they allegedly met up and smoked weed with another man in Clark's car. Then, around 10 p.m., Clark and Devins started their drive back to Utica, Chels said.
But at some point during the night, the two allegedly got into a dispute. In DMs that Devins sent to a different friend on Discord, which Rolling Stone obtained, Devins said Clark was "so mad" that she had kissed the unidentified third man at the concert. On the evening of July 16, Oneida County District Attorney Scott McNamara told reporters that officials believe this incident could've compelled Clark to murder Devins, WKTV reports. "The belief is that she kissed somebody at the concert and that's what upset him," McNamara said.
However, new evidence suggests the murder was premeditated. At the scene of Clark's arrest, police discovered knives and rope; they also discovered an apparent suicide note at one of his family members' homes, Rolling Stone reports. Oneida County Assistant District Attorney Sarah DeMellier also recently revealed additional evidence suggesting that Clark had planned the murder. In an interview with Syracuse.com, DeMellier said that during the three months leading up to Devins' death, Clark had been searching online for information about how to kill sometime, with a focus on the carotid artery. DeMellier also said that Clark had equipment in his car to videotape the murder, which he set up after Devins fell asleep in the backseat of his car (following their dispute about the kiss). He "recorded what appears to be her last breaths," DeMellier told Syracuse.com, adding that Clark admitted to taping the murder so he could watch it later.
What do we know about the murder?
According to Rolling Stone, around 6:40 a.m., photos of Devins's partially decapitated body showed up on 4chan and the Instagram story of user @yesjuliet, which is believed to belong to Clark. The user's bio on Instagram reportedly read, "10/06/1997 – 7/14/19. Just know that I feel no pain now." Instagram reportedly deleted the account on the afternoon of July 14.
On Devins's Discord server, Clark also reportedly posted the photos of Devins with the caption, "Sorry fuckers, you're gonna have to find someone else to orbit." ("Orbiting" is when exes or interested men closely follow the social-media presence of someone with whom they hope to have a sexual or romantic relationship.)
After receiving multiple 911 calls from concerned Discord users and Clark himself, Utica police showed up to the scene sometime around 7:20 a.m., where they found Devins's body outside an SUV believed to belong to Clark. They also found a critically injured man who police say stabbed himself in the neck upon their arrival; per Syracuse.com, the man was later identified as Clark. (BuzzFeed News reports that Clark continued to post disturbing images to his Instagram story as police held him at gunpoint.) Meanwhile, users on the various platforms where the photos were posted were sharing the images, with some users even allegedly screenshotting and reposting them in attempts to gain followers. (Instagram came under fire for taking multiple hours to remove the content and said in a statement on July 14, "Our thoughts go out to those affected by this tragic event.")
On the night of July 14, Clark — who at the time was in critical condition at St. Elizabeth's Hospital — was charged with second-degree murder, the Times reports. Then, on July 23, he was indicted on the charge.
In a statement to Rolling Stone following Devins's death, her family remembered her as "a talented artist, a loving sister, daughter, and cousin, and a wonderful young girl taken from us all too soon. Bianca's smile brightened our lives. She will always be remembered as our Princess." Her family has also set up a scholarship fund in her name to raise money for "students pursuing a degree in psychology so they can continue Bianca's dream to help adolescents with mental illness."
After originally pleading not guilty, Clark took a plea deal.
On July 29, Clark pleaded not guilty to the charges against him, after which he was held without bail. However, after Clark was found with a sharpened toothbrush in his cell, and then charged with a first-degree charge of promoting prison contraband, he decided to change his plea. During a February 10 court appearance, he pleaded guilty to Devins's murder as part of an agreement with the district attorney's office to dismiss the prison-contraband charge, NBC News reports.
He also reportedly expressed remorse in court: "I think I need to realize what I did I can't undo, as much as I want to … I apologize to all the people that knew and loved her. I apologize to everybody affected by this, to everybody who had to see that horrific picture of her. I know sorry is not enough and it won't take back what I did. I wish I had more to give."
According to Syracuse.com, Clark will be sentenced on April 6, and is facing 25 years to life in prison.
This post has been updated.