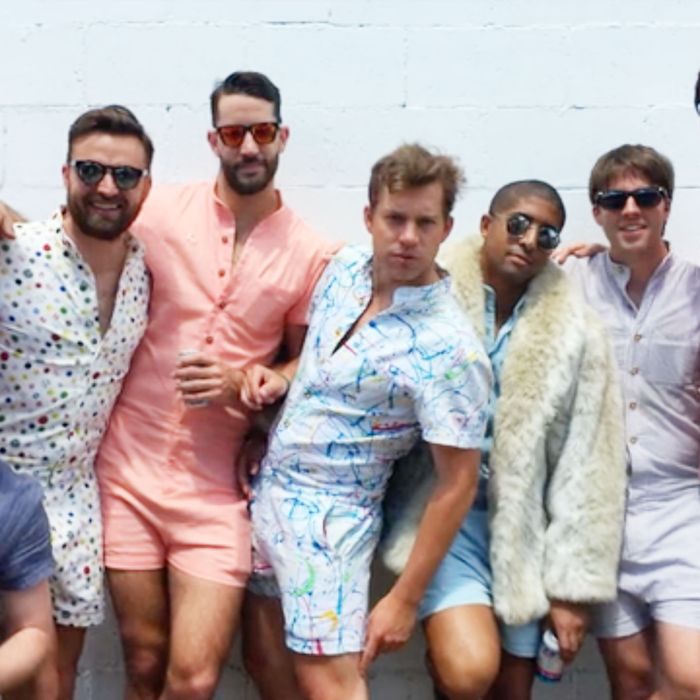 RompHim has ceased all romping.
Photo: Courtesy of Kickstarter/ACED Design
The sun has set on a golden era of fratleisure: RompHim, exclusive retailer of rompers for men, has officially closed up shop after an approximately three-year run.
I myself cannot believe that it was just 2017 when the above battalion of pastel-shorted men barreled into my brainspace, but here we are. Having gone viral for a Kickstarter campaign promising cute lil' playsuits for the male masses, RompHim was ultimately unable "to come out with the new styles and be as innovative as all our customers deserve," cofounder Daniel Webster-Clark told BuzzFeed. The official goodbye appears to have gone out to the "Romp Squad" yesterday, thanking everyone for the "amazing run."
Despite its initial viral momentum, RompHim appears to have lost ground to competitors offering a similar product at a more reasonable price point. (According to CNN, the Oxford Romper originally cost $119, but a 75 percent off everything sale appears to have wiped out remaining stock.) Also, onesies have never been a specifically gendered garment — photographic evidence, for your consideration — so a romper specifically for men was perhaps not a market hole that needed filling. Despite having raised $350,000 during the Kickstarter campaign, and although it eventually branched out to include customers outside the apparent straight-cis-bro target market, RompHim sustained consumer interest basically through summer 2017. After that, according to BuzzFeed, things appear to have died off.
But for a minute there, a shining internet minute, RompHim was really … something. We will always have the memories. And the memes.