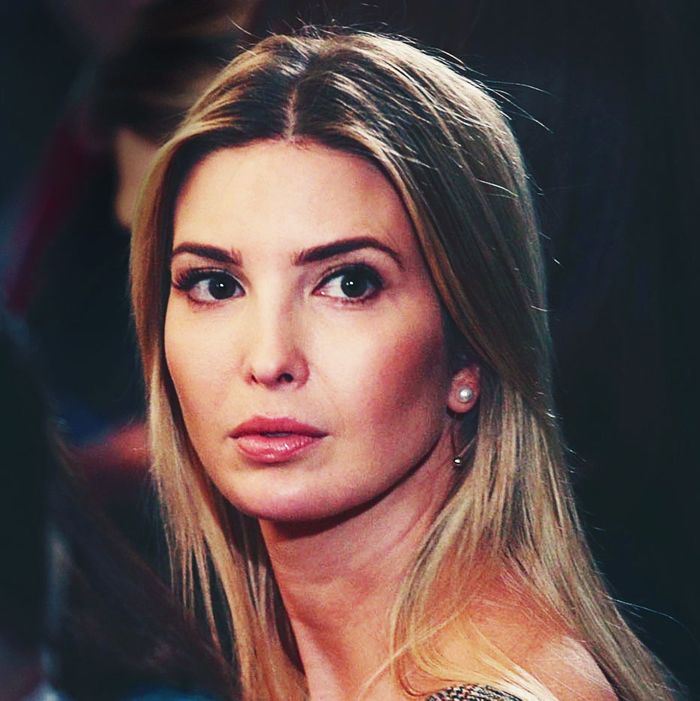 Ivanka Trump.
Photo: Alex Wong/Getty Images
Scarlett Johansson may be the current go-to for portraying Ivanka Trump on SNL, but this month she has competition — there's a new man in town filling her shirtsleeves: performer-creator Ryan Raftery.
On February 23, Raftery will return to Joe's Pub for yet another one-man bio-musical; in years past, he has embodied a slew of perfectionist New Yorkers, from Andy Cohen and Martha Stewart to Anna Wintour and, most recently, Calvin Klein.
Lest Raftery be pigeonholed as the guy who does one-man, comedic bio-musicals about men in fashion, he's recently taken inspiration from the world of politics. Specifically, Raftery is attracted to the morally mute First Daughter, Ivanka Trump, by his description, "the most famous presidential offspring."
"When [Trump] first got elected, there were so many people saying, 'Well at least Ivanka will be there.' 'Ivanka's level-headed.' 'Ivanka will be able to keep him in order.' Obviously, that hasn't happened," Raftery explained in discussing how he chose his muse.
"Ivanka is so many dichotomies wrapped up in one," he said, citing her incredibly unaware self-help book Women Who Work and her seeming belief that she is making a difference in the life of working women via her role as presidential adviser. "It's literally like taking financial advice from a friend of yours who has a trust fund … This is a woman who clearly has had her entire life handed to her on a silver platter."
In picking the very complicit first daughter as this season's subject, Raftery says he has faced pushback from people asking, "Why Ivanka?" Answering them, he maintains that she is the perfect subject because of her flaws and contradictions, and reminds them that his shows are comedic endeavors, not political ones. "This is a huge part of our world right now, whether we like it or not. And if you can't laugh in life … I don't know how you can get through the Trump administration without at least having some moments of levity where you just laugh at it all. You have to. If I can take someone's mind off of this or make them laugh for 75 minutes, then I've literally done my job."
Writing the play, he's kept a Carrie Fisher truism in mind: "If my life wasn't funny, it would just be true, and that is unacceptable."
The plotline of the show borrows inspiration from several movies: The Manchurian Candidate (about a Soviet sleeper agent sent to the U.S.), the animated Anastasia, and Jordan Peele's Us. When blended together, those inspirations give birth to a musical comedy about a Rasputin-cursed whistle (yes, you can expect "whistleblower" puns), planted by the Russian government on Ivanka in order to encourage further atrocities by the president. Or, in Raftery's, words, to "fuck with America." The result is two different women, "good Ivanka" and "bad Ivanka," both played by Raftery. Jared Kushner is also in the play, in a stunningly convincing performance by a cardboard cutout.
For the music, Raftery turned to Beyoncé, Shania Twain, and Lady Gaga. In lieu of "Partition," Ivanka sings "Conversion," about her adopted religion. When she returns to New York City to shop at Bergdorf's, only to be confronted by a mob of angry Upper East Side ladies-who-lunch, she sings a version of "Part of Your World" from The Little Mermaid, voicing her desire to be a New York Society Girl. "In my show that's all Ivanka ever wanted," Raftery explains. "She wanted to live this fabulous life: Fashion Week, the galas, the high-profile weddings."
As for the one thing he's looking forward to the most after the eight self-produced, self-written, one-man productions?
"Definitely to stop following her on Instagram."
Ryan Raftery: Ivanka 2020 shows at Joe's Pub from February 23 to March 13.