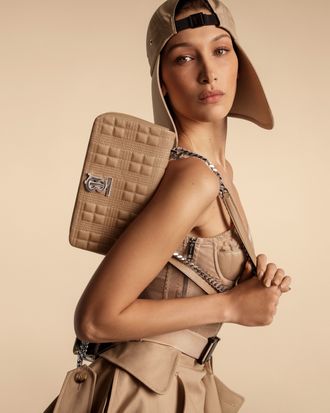 If you're feeling overstimulated by our post-social-media world, Burberry has the antidote. The brand's new campaign is set against a beige backdrop — a color as classic and understated as a Burberry trench. Still, the ads feel modern, in keeping with designer Riccardo Tisci's project of respecting Burberry's historic British style while updating it for a new generation.
The spring/summer 2020 campaign is full of trench coats and eveningwear, though there's some laid-back sportswear thrown into the mix in the form of rugby polos. Shot by Inez and Vinoodh, it features Bella Hadid, Gigi Hadid, and Kendall Jenner, among other models.
"I have been working for a few seasons to define a new identity and visual language for this house. This campaign feels like the beginning, and I wanted to celebrate the men and women who represent Burberry," said Tisci in a statement. "Together they capture the sophistication and attitude at the heart of the house today." See more from the campaign, below.