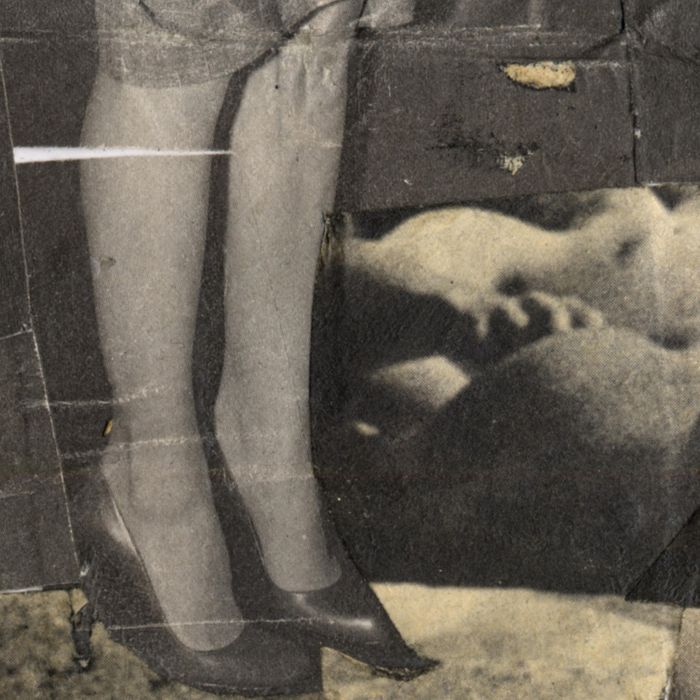 Photo-Illustration: James Gallagher
This week, a woman jealously obsessing over her married lover's wife: 24, single, Battery Park.
DAY ONE
10 a.m. If all goes as planned, this will be the day R and I finally get to workout together. I've been obsessed with boxing/circuit classes lately; they make my core feel on fire and I look hot with the dark lights and sexy remixes blasting. Whenever I am working out, I imagine him next to me, watching the sweat dripping down my spine as I squat. I love how much he desires me and my body.
11:30 a.m. We plan to watch a soccer game from a nearby bar before our workout. I'm not an avid soccer fan but knowing that it's important to him makes me want to be. I find out later that his wife has never gone out to watch a game with him. It makes me hate her even more — she is a constant dimmer on a beautiful ray of light and I can't stand it. We order food, beer, and spend the time talking, cheering, and smiling.
1:45 p.m. We're running late to class because we stop to get him some new workout clothes. I'm thrilled to shop with him; I hope he'll think about me when he puts on the clothes we buy. Anything that will extend my presence in his life. Anything that pulls him toward me and away from her.
2:30 p.m. We're on the treadmill and I can see him watching my face in the mirror; it turns me on. I'm breathing heavily and excited at the thought of having passionate sex with him later. I watch how his sweat slowly runs down the side of his neck and lands on his collarbone; I want to follow it with my fingers. I have never loved the body of another so fully before.
3 p.m. My friends join the class and it's the first time they see us together. We're so used to hiding our love every day at work sitting across from each other, but here we can be ourselves and it feels really good. We all cool down with some kombucha from the gym's bar and later part ways.
6:30 p.m. After having sex, we wrap up the day eating chips and guac naked on my window sill — talking, loving, and watching the sunset. I feel good when I tell him how much I love him. He needs to go back home or else she will start making a fuss. My stomach turns anxiously and I come back to reality; at the end of the day, he is laying his head on a pillow next to her, not me.
DAY TWO
9:30 a.m. Today starts another week. I give him eyes across the way as I set up my desk and he gives me a warm smirk — I can feel his love.
2 p.m. We go down for a smoke break and steal a few kisses when no one is looking.
5 p.m. The rest of the day is pretty busy for both of us and we aren't able to see much of each other. I see him pack up and put his jacket on — is he really leaving this early without even telling me? My anxiety doubles when I remind myself he has no obligation to tell me anything. It's hard to trust something that isn't fully mine. I let it go and focus on my work.
11 p.m. I haven't heard much from him tonight and I chalk it up to an early bedtime, but every doubt in my mind is screaming that he is having sex with her. The thought of him touching her makes me sick. I can't let myself go there.
DAY THREE
10:15 a.m. I approach him in the kitchen as I'm making coffee and ask him how his night was. I can tell he's hiding something so I ask what he did. He stumbles over his words and tells me he watched a movie. The fucker definitely had sex with her. My body feels heavy and slow, I swallow it and hold on. He is married after all. This is what I signed up for.
12:30 p.m. Today is compensation day at work, which means everyone receives their raise, bonus, and promotions if they're up for one. The day consists of drinking, toasting, and very little working. We go out for lunch with a large group and he sits next to me. Midway through the meal, he pulls my leg between his. A smile erupts on my face and I feel a wave of euphoria.
3 p.m. We're back at work toasting some big promotions and feeling buzzy. As we walk from one toast to another, R pulls me to the side and kisses me when no one's looking.
11:45 p.m. I'm a tired, cranky drunk. I want to go home and I'm relieved I only live ten minutes away. He comes home with me, equally intoxicated, and we drunkenly fight about the sex he had with her on Monday. I cry and he consoles me. I realize more and more every day that we can't continue having an affair if we want to maintain self-respect. We fall asleep and he decides to stay overnight — something he has never done before. He tells his wife he's sleeping at a friends' place … she assumes he's out doing drugs.
DAY FOUR
8 a.m. My alarm goes off and my head is pounding. His voice is gone from a cold, and he decides to take a day off since he can barely speak and I "work from home."
8:30 a.m. Our rustling about turns into messy morning sex that feels so close and invigorating. As he pulls in and out of me I dream about our future together and the beautiful children we would have. I want to create a life with him.
6 p.m. We spend the day in bed, recovering with sex, naps, and food. He has to go back home and I can see on his face that he's dreading it.
11 p.m. I get a Snapchat notification from R right before bed. He tells me they had a serious conversation about their marriage. He doesn't want to try to fix it anymore. I tell him to come over tomorrow morning before work so that we can talk about it.
DAY FIVE
7:45 a.m. I wake up to R softly knocking at my door. My heart jumps and after a big hug, I hurry back to bed. He sits across from me on my couch, which is odd — normally he would jump into bed with me. "I think I need some time apart to think. I don't want it, but I think I need it," he says. I did this to myself — got involved with someone unavailable. I try to stay strong. If this is what he needs, I need to let him have it. I put my arms out and ask him to come to bed. With a look of desire, I nuzzle into him. He gets hard and we start having sex. I come fast and he follows; we end up laying naked beside one another and I can feel the tears coming. I don't want this to end.
9:15 a.m. I get dressed and we leave for work. He can tell how down I am. I'm not good at hiding and he's choosing her over me right now. He asks me to get a drink after work so that we can talk more. I say maybe and leave it at that.
5:30 p.m. I come around to getting drinks because I want to talk more. I meet him outside work and we head to a local bar. A glass of wine and a whiskey on the rocks turns into three and we go outside for a smoke break. We have a lot of fun, talking about anything and everything while laughing, touching, smiling in between. We talk about our feelings, how euphoric it feels. He decides he's going to talk to his mom for some insight. I support him; he needs to tell someone in his life that I exist.
10:30 p.m. He really has to get home. I get anxious when he stays with me too long because it means a fight could ensue between them. I don't want her to ever get suspicious. A few weeks back she got so mad at him for his constant absence and late nights that she was convinced he had a drug addiction. We close out the bar and I walk him to the subway. We kiss good-bye and life turns grayer.
DAY SIX
8:30 a.m. And just like that, it's Friday! I'm a native New Yorker, and I have dinner plans with my best friends from high school. We love going out to dinner together — it's a time when we can connect and stuff our faces while complaining about how tight our jeans are and how swollen our feet feel. I dress for work accordingly in preparation for tonight and head out.
12:30 p.m. I get lunch with R and I tell him about dinner with my friends later. I tell him we're going to get drinks afterward and a part of me hopes he's jealous. I am single after all and although I tell him I don't want to be with anyone else, he knows what I'm wearing and he knows how flirty I am.
7 p.m. I meet the girls for dinner in Tribeca. Starving and excited to share all the latest about R with them, we order quickly and get to talking. I am grateful that they accept me for whatever is going on in my life, however messy and immoral.
DAY SEVEN
12 p.m. I am not a morning person in any sense of the word so Saturdays and Sundays consist of a lot of sleeping in. I have plans to meet up with two of my college friends, V and L, for lunch and am in desperate need of a manicure. I also miss R. We haven't had sex since Thursday morning and thinking about it turns me on. I walk past my full-length mirror on my way to the bathroom and see my handprint on it. I start thinking about the last time we had had sex there — how hot it was to watch him watching me through the reflection. I remember that he might be having sex with her right now and feel a wave of anxiety wash over me.
8:30 p.m. I manage to make plans with R for tonight. We decide on a bar in the Lower East Side. He mentions buying coke, which is something we haven't done together in several weeks. The thought excites me and I would have all day Sunday to recover so I don't say no.
10:30 p.m. My hair is cooperating with me and I think I look really cute. He knocks and I open the door, trying to look alluring. He pulls out the baggy and we giggle while breaking up the crystals with his credit card. The first line is always a shock. The words start flowing out and before you know it, we've been talking for over an hour. We grab our coats and head out.
12 a.m. We have a few drinks and decide to go back to my place to do some more. Our conversations have become talking more and more about our families and stories from our lives. I tell him things about my parent's divorce that I have never told anyone, and it feels safe in his arms. We get in a cab and we hold hands.
12:30 a.m. When we get back, before we do more lines, I go for his belt and I can feel how hard he is. He takes my clothes off and picks me up and drops me on the bed. Before he pulls down his pants, he goes for the drawer. We haven't used our toys in a while—it's just been too good without them. He grabs the vibrator and puts it around his dick. I love riding him when he has it on so I motion for him to lay down and I get on top. He finishes from behind, holding both of my arms behind my back.
3 a.m. We draw a hot bath and climb inside together, facing one another. I move my candle into the bathroom and turn the lights off. We talk about religion and the meaning of life. I learn when I talk with him; he is complex, deep, so different yet so the same, and very smart. The water is getting cold and our fingers are getting pruney. We open the drain, pat each other off, and as we hug our naked bodies together, I stand in disbelief: how is this my life?
Want to submit a sex diary? Email sexdiaries@nymag.com and tell us a little about yourself.