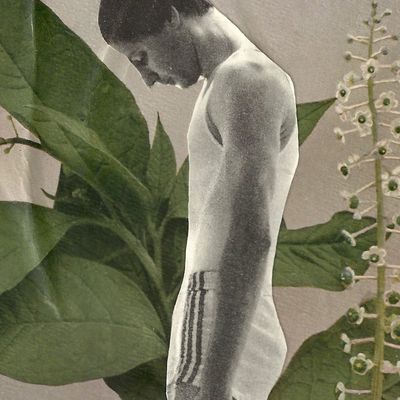 Photo-Illustration: James Gallagher
This week, a man ditching friend dates at Whole Foods to go have threesomes: 29, digital marketing, single, Sunset Park.
DAY ONE
8:45 a.m. I stop by my co-worker's desk to catch up on the weekend. She gives me her standard response about cooking, cleaning, and chilling, and I do the same. I omit the part about spending Saturday night cruising guys at a sex shop in an effort to maintain some professionalism, which makes me feel like I'm living a double life.
3:00 p.m. I put a fake meeting on my calendar and find an empty enclave on my floor to collect my thoughts and take a moment for myself — I do digital marketing for a health-care company in midtown during the day and take classes for my M.B.A. downtown at night, so I'm tired all the time, but these pockets of solitude help me pull through.
4:00 p.m. My boss leaves work early, so I sneak out of the office and race home before class.
5:00 p.m. I open Grindr and message a cute redhead. We talked at a Pride party last summer and even though I know he knows who I am, we both act like we've never met before. I get it, anonymity is just easier for a hookup.
5:15 p.m. A few minutes later, he's on my couch taking off his pants before we can even pretend to introduce ourselves, and I try not to react to the fact that he has the biggest dick I've ever seen. We jerk each other off and then he's gone as quickly as he arrived, but it was fun and sometimes that's all you can ask for.
6:15 p.m. In class, exhausted, but the teacher's lecturing all night so I zone out and let my mind wander.
10:00 p.m. Finally back home. I'm revved up from class, so I respond to a few messages on Tinder. I've made a new profile four times in the past three years and I'm still single, but I've made a few meaningful connections so I always hope it'll lead to something.
DAY TWO
1:00 p.m. At the office in a team meeting discussing a few projects on the horizon when my boss suddenly announces that his family is adopting a new puppy. We congratulate him, but everyone's visibly shocked because whenever something goes wrong in his personal life, he adopts a pet. He already has three dogs and four turtles.
2:30 p.m. The afternoon's dragging on, so I scroll through Grindr, Tinder, and Scruff. I like to think that I'll meet a guy at the grocery or a bookstore, but the reality is that these apps are the easiest way to connect with someone. I message a few guys and get back to work.
5:00 p.m. Rejoice at making it through another day in the office and head downtown for a workout class at Barry's Bootcamp. I try to go a few times a week and it's a great way to blow off steam, but I can hear my bank account scream every time I sign up for a class.
5:30 p.m. The instructor is this guy I made out with at a dance party a few months ago; like most of the trainers at Barry's, he's a fitness model with chiseled abs and so much charisma it's crazy. I doubt he remembers our moment on the dance floor, because he was clearly tripping on something at the time. Still, I keep going to his class because it's fun and I appreciate how flirty he gets when he's showing me how to do certain moves.
7:15 p.m. I breathe in the familiar smells of urine and garbage on the train and head back to Brooklyn. Time for an edible and lights out by 10.
DAY THREE
12:15 p.m. On my third cold brew of the day when I get a text from Nick, the 21-year-old I hook up with sometimes. He says he misses seeing me, which makes me a little emotional, and we make plans to hang out later tonight. I used to think I would end up dating Nick, but every time we hook up I realize our relationship is founded on sex, not intimacy; not to mention the fact that there's a huge gap in our emotional maturity thanks to our age difference.
3:15 p.m. Standing in the kitchen at work talking to a friend when the hottest guy in our office walks in to get more coffee. He asks us how we're doing and my friend gets so flustered that she drops her mason jar of water to the ground and it shatters all over the floor. Hot guy smiles, my friend turns red, and I laugh.
6:30 p.m. Finally at Nick's apartment, which is huge even by NYC standards. Nick graduated high school early and skipped college to work for a major luxury brand, so in addition to getting a sick discount on designer threads, he's clearly making a ton of money.
7:00 p.m. We're making out after a few glasses of wine when Nick takes off my pants and starts sucking my dick. We move to the bedroom and I fuck him without a condom, but I don't worry about it because we get tested all the time.
8:15 p.m. Afterward, we lie in bed spooning for a while with an old horror movie on the TV. Eventually, I tell Nick I have to go and as I'm leaving he mentions he recently started an OnlyFans page and asks if I'd be down to film a video of us fucking for it. Something to consider if my dating life doesn't pan out, I guess?
DAY FOUR
9:15 a.m. I work from home on Thursdays (thank God), so I wake up late, make coffee, and jerk off — standard behavior for what I consider to be a day off.
11:30 a.m. My friend Dara lives a few blocks away from me and has taken a sick day, so we decide to walk along the Gowanus Canal and have lunch at Whole Foods.
1:15 p.m. We're eating lunch when I get a text from Jason, this medical student I met on Grindr a few months ago. Jason says that he and his boyfriend are hanging out in their loft in Carroll Gardens and asks if I want to come over. Dara's a great friend because she tells me to go before I even ask if she minds, so we say good-bye and I head for the train.
1:45 p.m. Jason and his boyfriend are super friendly and we chat for a while about what's been going on since the last time we saw each other before moving to the bedroom; it's a nice change of pace from my usual hookups and I guess a part of me keeps having sex with them because I crave the intimacy they have.
2:00 p.m. The three of us blow each other and Jason lets out this over-the-top moan when he comes, which is equal parts funny, hot, and endearing. We clean up one by one and make small talk for a few minutes before it's time to go.
6:15 p.m. Class again and so, so tired. I know I shouldn't hook up before school, but sometimes it's just so hard to say no. I wonder if I should start buying Adderall from the drug dealer in my class, but worry about whether I'd be able to stop taking it. I guess I'll stick to coffee for now.
DAY FIVE
2:15 p.m. At work our department VP decides that we need to celebrate our team's accomplishments over the last year so we all leave the office early to go to a movie.
5:15 p.m. A few people head to happy hour after the movie, but I decide to go back to Brooklyn so that I can recharge before going out with friends.
10:00 p.m. Sitting at a bar in Bushwick with a few friends when one of them suggests we head to a party someone she knows is throwing nearby. We down a few drinks, and then a few shots, and stumble into a cab.
10:30 p.m. There are lots of gay guys here, which is great, but a little overwhelming. I grab a drink and quickly start talking to a handsome guy with dark features and darker circles under his eyes that make it look like he hasn't slept in a few days. He introduces himself as Brian and offers to get me another drink.
10:35 p.m. We move to an empty corner of the room and start talking about what we do, what we're interested in and our experiences living in New York. It's basic conversation, but there's a familiarity about this guy that makes me feel like we're connecting on a deeper level, so it's natural when he smiles at me and we start kissing. I try to stop myself from envisioning a future with someone I just met, but I'm buzzed and hopeful so I think about what it would be like to date him.
11:30 p.m. An older guy comes over to us and introduces himself as Brian's boyfriend. Ugh, I guess they have an open relationship. I like hooking up with couples, but I view sex and dating differently and I'm ultimately looking to date one guy exclusively.
12:00 a.m. I call a Lyft back to my apartment before Brian or my friends notice I'm gone. I feel sort of crushed and don't know whether I should cry or get on Grindr. Instead I just hit up the McDonald's in my neighborhood for a Big Mac and a milkshake; I'm going to feel terrible in the morning.
DAY SIX
12:45 p.m. Wake up late, grab my computer, and walk to my favorite sandwich shop a few blocks from my apartment. I drink a few cups of coffee and scan the obituary section of the paper, which sounds morbid, but it gives me perspective and reminds me that an occasionally lonely life is better than no life at all.
4:15 p.m. Despite my internal pledge to stay off my phone on as much as possible on the weekend, I cave and open Tinder. I had been messaging a rugged, older doctor about our favorite bars in the city and our shared interest in The Odyssey, but he ghosted me and now I'm mostly messaging guys I'm not that excited about. I think about texting Jason and his boyfriend, but decide to turn off my phone and read again.
7:00 p.m. It's cold and dark out, so I eat an edible and take a journey from the couch to the kitchen at least six times before accepting that the fridge is empty and ordering Thai from a place in the neighborhood.
9:45 p.m. Sink into bed and call it a night.
DAY SEVEN
9:45 a.m. It's cold but sunny out, so I buy a coffee and walk around Prospect Park for a while. I get as far as the Brooklyn Museum before making brunch plans with my friend Cici.
1:15 p.m. I meet Cici at one of our favorite spots on the Lower East Side and we catch up over strong cocktails. She's an old friend from college who's also single and has been a solid support anytime I feel like my personal life is in meltdown. She's also one of the most confident people I've ever met, constantly introducing herself to strangers or kissing random guys in bars, so I feel like she's a good influence on me.
2:45 p.m. We're still at brunch talking about boys, what else, when I decide to delete all of my dating apps. Yes, I'll probably download them again in the near future, but for now it feels like I should take a break and reevaluate my personal goals before I turn 30 in a few months.
5:00 p.m. Back across the bridge walking along the Brooklyn Heights Promenade. It's starting to get dark out and as I pass by a few couples walking their dogs, I turn and rest my hands on the promenade railing to watch as the city's lights click to life across the river.
Want to submit a sex diary? Email sexdiaries@nymag.com and tell us a little about yourself.