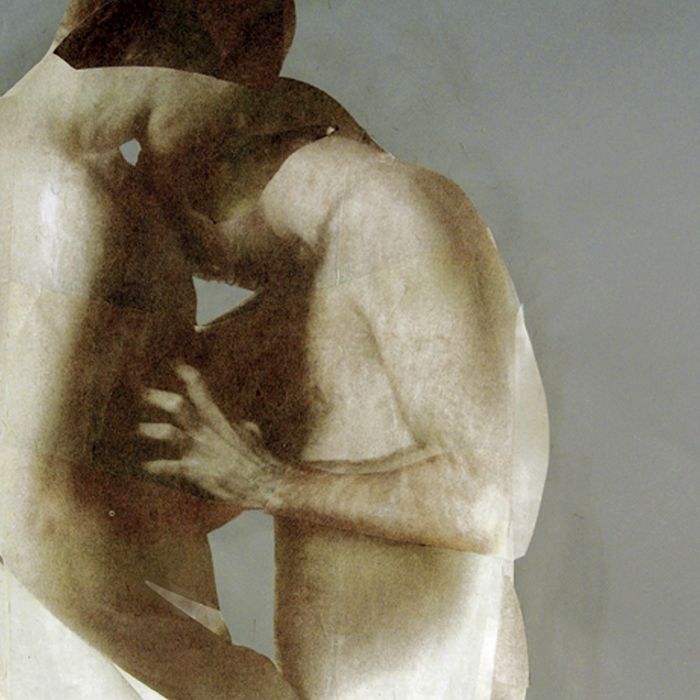 Photo-Illustration: James Gallagher
This week, a gay man hooking up with friends all over the city and going on abysmal first dates: 25, single, Lower East Side.
DAY ONE
8:55 a.m. I wake up early and horny. I call P, a phone-sex buddy I've known since my intern days. He's older, maybe 60, and lives in Brooklyn Heights. I used to walk over to his apartment and have him suck my cock whenever I needed head. He's a divorced, formerly straight father and always did a good job servicing me along with any of his buddies he'd have over to help him out. Now I call him whenever I need help getting off.
He answers my call and finishes himself in two minutes. I get there in four — I'm always efficient with these conversations. I thank him for picking up my call, wipe my chest off with an old pair of boxers, and hop into the shower.
10:30 a.m. I check all my dating apps and head out for brunch with friends. I have a date later and I'm a little nervous. We've been texting for months after connecting on Hinge and are finally meeting up for drinks in Tribeca, where he lives. He's 35, lives alone and works at an art gallery.
6:00 p.m. I get home, drink some Pinot Grigio to calm my nerves and get ready for the date.
8:00 p.m. Date is efficient and quick. He didn't want a second round of drinks, so we leave the bar after one hour on the dot. I walk home and feel a bit defeated. I get home, drink some more wine, lay in bed, and scroll through the apps.
11:00 p.m. I start talking to a guy on Grindr who's at the bar below my apartment, which is loud and clubby — the line always makes its way to my building door on Friday and Saturday nights. Before I know it I invite him up and start to suck his dick, as it appears that's all he wants now that he's here. I usually prefer to "receive" oral with a random guy, but I go with it for a few minutes before giving him some vague answer as to why I'm not feeling it: I blame my "weird date." He leaves promptly.
12:00 p.m. I troll Grindr some more, as I still want to come. I drunkenly text R, who is my best girl friend's "straight" and very closeted cousin. We've been hooking up for a year now and the secret recently got out in my friend group. R still has no idea we all know he loves cock. He works in finance and comes from a very conservative family. He's previously confided in me that he worries he'll be disowned if this gets out. I text him "Hey" and he doesn't respond — classic.
1:00 a.m. I decide to watch some porn, jerk off, and go to bed. I make plans on Grindr to meet up with a regular hookup buddy, T, tomorrow. He's older, 51, which I don't mind — I kind of prefer older guys. I drift off thinking about his hot mouth.
DAY TWO
9:00 a.m. I wake up, text T, and confirm that I'm good to go over to his place at noon.
9:30 a.m. R gets back to me, finally: "Hey, sorry I was asleep."
10:00 a.m. Throughout the morning I chat with various guys on Grindr, seeing who's interested in joining T and I. I put "2 for 3rd" in my bio and the messages come in. T and I agree on one guy who lives nearby — 31 years old and 6 feet tall. I let him know I'm heading over to T's around noon and send him the address.
12:00 p.m. I get to T's apartment and he starts sucking me. He's really tall and good at servicing cock. I've hooked up with him probably ten times at this point and always enjoy it. It's nice having a repeat hookup so close to my apartment. The 31-year old-arrives. T gets the door for him and I stay in bed, naked and waiting for him to join. I'm not as into the guy as I was into his pictures but I go along with it. T services us both to completion and I leave after around 30 minutes. I feel ready for the rest of my day.
DAY THREE
8:00 a.m. I get ready for work. Ugh.
11:00 a.m. Whenever I go to the bathroom at work I scroll through Grindr as a quick break from my day. It's an entertaining moment away from my desk.
6:00 p.m. After a long day, I leave the office and head to dinner in Williamsburg for a friend's birthday.
7:30 p.m. I get a text from P: "come over later and display your hot hard cock for me to worship." I don't respond and check Grindr to see who else is in the area. I like to get online in different areas of the city to see who might be a good future prospect, since Grindr is strictly based on your current geographic location.
10:00 p.m. I leave my friend's dinner and text P, "Mmmm. Is anyone else coming." No response. He's honestly not worth the trek if someone else isn't going to be there to join in. I love group play, so that would make it worth it. I call an Uber home.
10:30 p.m. I watch TV for the rest of the night and think about how I'm kind of sexed out from the weekend.
DAY FOUR
8:00 a.m. Sex drive is back — I wake up and jerk off to porn before getting ready for work.
11:00 a.m. I check Grindr throughout the day in the bathroom. I make plans with A, a guy I've been texting for a couple days, to go on a date tomorrow night.
3:00 p.m. I text a guy on Grindr who has his number listed. His profile says he wants to fuck. After I text him, he calls me and I run to a conference room to pick up. I tell him I can't talk now. I don't text him back and leave the conversation there.
10:00 p.m. I watch Netflix and fall asleep — no jerking off tonight.
DAY FIVE
6:45 p.m. After work, I do a workout class at the gym and then run home to drop my stuff and take the subway across the bridge. I have a date with A at a bar in Williamsburg.
8:45 p.m. I get to the bar a little late and A has finished his first martini. I order a rum drink from the menu and once I have it, we move from the front bar to a small table in the back.
9:50 p.m. A and I have some good conversation and leave after a little over an hour. I can't tell if he's vibing or not.
1:00 a.m. I get home, go to sleep and make a mental note to try to get to bed earlier on weeknights.
DAY SIX
9:00 a.m. I ask A for his Venmo so I can pay him back for the drink he bought last night. He sends me his handle, I pay him, and the conversation dies off shortly after. He doesn't text me back. Ugh.
6:00 p.m. I leave the office and head to the gym. While stretching before my class, I see a guy who I once recorded giving me a blow job late at night in my apartment. It's weird and uncomfortable seeing him not only out in the wild, but also in the harsh lighting of the gym.
9:00 p.m. When I get home I make dinner and start watching Cheer on Netflix.
1:50 a.m. Late night — I jerk off a few times before passing out. I question once again why I stay up this late knowing tomorrow at work will be rough as a result.
DAY SEVEN
11:00 a.m. My Co-Star today hits hard: "Try to exercise control over romantic fantasies today." I think about my semi-failed dates and wonder when one will actually stick.
9:00 p.m. After a long workweek, I go out with friends to some bars in and around my neighborhood on the Lower East Side.
11:00 p.m. I see the guy from the gym, the one I filmed, at a bar. New York is too small sometimes.
4:00 a.m. Once I get home, I get on Grindr and tell a guy who's looking to suck to come over. I drunkenly pass out minutes before he arrives.
Want to submit a sex diary? Email sexdiaries@nymag.com and tell us a little about yourself.