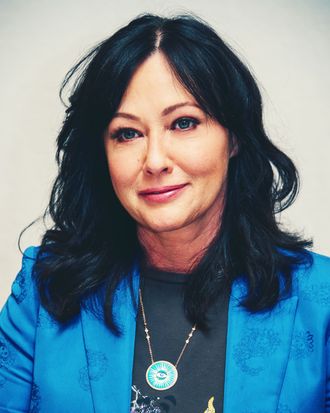 Photo: Vera Anderson/WireImage/Getty Images
In an interview on Good Morning America today, actress Shannen Doherty shared that, after years of remission, her breast cancer has returned at stage four. She was first diagnosed with the illness in 2015, and had been in remission for three years.
Doherty, who rose to fame on the hit shows Beverly Hills, 90210 and Charmed, explained that she decided to speak out because she wanted to "control the narrative" around her illness. "It's going to come out in a matter of days or a week that — I'm stage four. So my cancer came back. And that's why I'm here,"she said. "I don't think I've processed it. It's a bitter pill to swallow in a lot of ways."
When she was first diagnosed with cancer, Doherty was open about her struggles; she frequently documented her chemotherapy treatments and hospital stays on social media, in an effort to share the realities of the illness and show other people with the illness that it's okay to be vulnerable.
She initially intended to keep her new diagnosis private, telling only a small circle of friends. However, she's currently in a legal battle with the insurance company State Farm, which she sued after her California home was damaged in 2018's Woolsey Fire, and feared that her health conditions might be revealed in public court documents related to the case. "I'd rather people hear it from me. I don't want it to be twisted. I don't want it to be a court document. I want it to be real and authentic," Doherty explained. "I want people to know from me. I just didn't want them to know yet."
She also spoke of her decision to continue working on Fox's BH90210 reboot despite the diagnosis. "I thought, people can look at other people with stage four, and [see they can] can work, too. You know, our life doesn't end the minute we get that diagnosis. We still have some living to do."