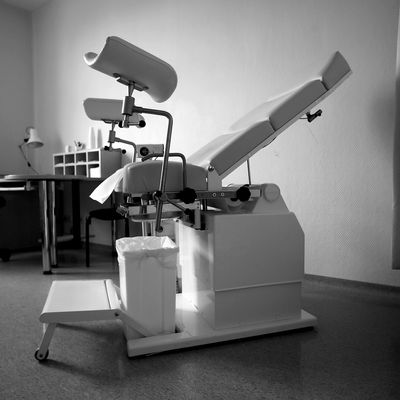 Apparently, not all hospitals obtain informed consent before performing pelvic exams on unconscious patients.
Photo: Sean Gallup/Getty Images
Giving an unconscious patient a pelvic exam feels like the kind of thing that should require their definitive, informed consent — but according to a report from the New York Times, a number of hospitals don't necessarily follow that protocol. The Times does not say exactly how often invasive gynecological exams might be performed without the subject's knowledge. Still, in conversations with physicians, medical students, and patients, the paper confirmed that it happens, and perhaps more often than one would think.
Performing a pelvic exam on an anesthetized patient allows a doctor-in-training to more easily identify reproductive organs, and is apparently fairly common practice in teaching hospitals. The problem is that not every institution will advertise this approach to the people in their care. In 2007, for example, Ashley Weitz — a survivor of childhood abuse — presented at the Intermountain Healthcare LDS Hospital emergency room in Salt Lake City. She had been vomiting continuously and after bloodwork and an ultrasound, her doctor reportedly asked if he could test her for sexually transmitted infections. Weitz, who is celibate, said she turned down the pelvic exam but accepted a sedative. Per the Times:
Later, she returned to consciousness with her feet in metal stirrups and a speculum inside of her, cold and foreign. Ms. Weitz cried out in discomfort. She recalled that the doctor responded, "Hang on, I'm almost finished."
In her "pain" and "confusion," Weitz said she wondered if she was having a "nightmare." What's more, she added, "If the doctor had more of a conversation with me, I probably would have consented. It was the absence of consent that made this a trauma."
A total of 10 states have banned unauthorized pelvic exams, and as of last spring, the Association of Professors of Gynecology and Obstetrics recommends that patients who undergo these exams while unconscious have "explicitly consented" to them, with full knowledge that students may be involved. But those guidelines, however intuitive, are new: A national, 2010 study reportedly found that although about half of patients hospitalized for gynecological surgery know that medical students may be present for the procedure, only about 19 percent know to expect an anesthetized pelvic exam from those students. And in a 2003 survey of 401 students at five Pennsylvania medical schools, 90 percent reported giving unconscious patients vaginal exams.
"The general public has no awareness of it," Dr. Ari Silver-Isenstadt, who conducted that survey, told the Times. "When I talked to my colleagues in medicine about it, it didn't seem like a red flag to them."