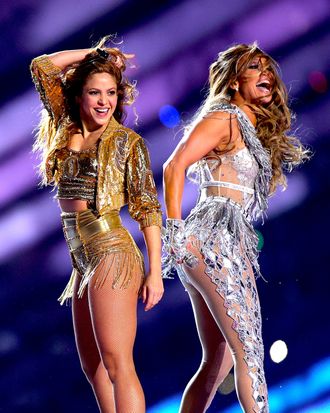 Crushed it.
Photo: Maddie Meyer/Getty Images
Ah yes, the Super Bowl, famously a very exciting night in butts. You have your sport butts, of course, and these are very cute: pert little buns, all tight and spandex-wrapped and padded. Football fans probably knew about this; indeed, maybe that's why so many people have tuned in for 54 consecutive Super Bowls. I have not really watched any of those, though, so I was delightfully surprised by this development. And maybe I am off-base here, but halfway through the game, I was pretty sure we already had a winner. It's butts, friends. The winner is butts.
Butts cemented their advantage early on, stealing the show in a commercial that was supposed to be about Oikos Greek yogurt, but was obviously all about the booty. Set to Major Lazer's "Bubble Butts," it featured butt after butt after butt — most of them affixed, refreshingly, to men — in a beautiful butt parade. "Wow," I marveled while watching all the rumps. "Impressed that butts got together the millions of dollars it costs to buy a Super Bowl ad spot." They really went for it, and I think we can all be proud of them for that.
I was ready to give butts the gold before we even reached the Pepsi Halftime Show ft. Shakira and J-Lo, but wow. Here you have two incredibly athletic dancers, both of them at the top of their game. Shakira went first, and was absolutely shaking it. This was a dance routine choreographed by butts, for butts: For a minute there, she bound her wrists and just let the cheeks take the wheel. Hips don't lie, and as it turns out, neither do butts!
Further feats of tushiness came courtesy of J-Lo's outfits: She opened her performance in a black leather…chap-suit (which lent her a distinct superhero look as she clung to the spire of a fake skyscraper) before switching to a jazzy mirror-ball bodysuit. Due to the proliferation of tasteful cutouts, I suspect butts designed these outfits, too, and you know what? They did great. I'm sure there are like two to 20 more hours left in this sporting event but honestly, I think we can call it here. Give butts the trophy, they've earned it.