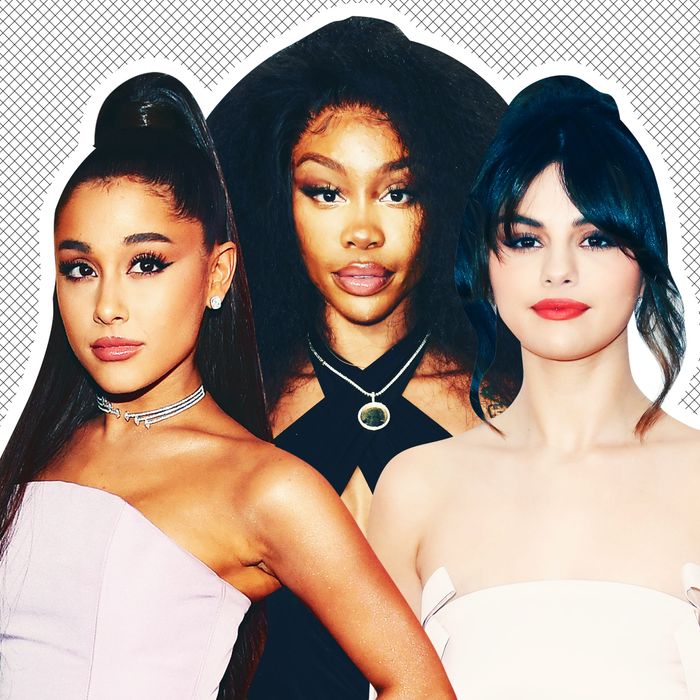 Ariana Grande, SZA, Selena Gomez.
Photo: Getty Images
On Wednesday, Rolling Stone dropped the cover for its second-annual "Women Shaping the Future" issue, featuring SZA, Megan Thee Stallion, and Normani. Shortly after the cover was released, SZA took to Twitter, writing: "Not doing any videos Interviews or photos for the rest of my life lol don't ask," followed by, "S/o Normani and meg tho. My sisters who I love very much and respect deeply. Honored to be apart of ANYTHING w the two of those BLACK QUEENS."
She continued: "My anxiety has .03% to do w outside opinion. I was bullied all through high school I could care less. It's my OWN THOUGHTS THAT HIT DIFFERENT."
SZA, who has previously discussed her experience with depression, is one of an increasing number of celebrities who have spoken candidly about their mental-health struggles. Ariana Grande canceled meet and greets at a concert last year to "preserve energy," citing a recent spate of panic attacks. Last August, Justin Bieber posted a photo on Instagram of "tips to help with an anxiety attack." Ari Lennox wrote a song last year about managing her anxiety. At various points over the past few years, Emma Stone has opened up about her ongoing battle with anxiety, saying that talking about it "is really scary for [her] but very healing." And Selena Gomez, who in 2016 took a year off performing to focus on her mental health, recently spoke about the importance of telling one's "truth" while accepting the 2019 McLean Award for mental-health advocacy.
"Last year, I was suffering mentally and emotionally, and I wasn't able to stay all buttoned up and together. I wasn't able to hold a smile or to keep things looking normal," she said during her acceptance speech, in which she mentioned her decision to seek professional help. "I can say that after a year of a lot of intense work that I am happier, I am healthier, and I'm in control of my emotions and thoughts more than I've ever been before."
That celebrities are increasingly speaking out about their own struggles with anxiety and depression is a shift worth celebrating. As SZA tweeted, "'Celebs' been out here dying of addiction and depression for DECADES. Be glad Ppl are TALKING to eachother [sic] and sharing rather than hiding."