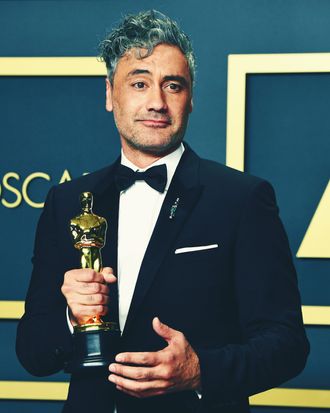 Taika Waititi
Photo: Steve Granitz/WireImage
Activism at the Oscars can sometimes feel like a cavalcade of well-meaning but empty platitudes. Speaking out about the importance of diversity in filmmaking is all well and good, but when yet another Oscars passes with no female directors nominated and only one acting nominee of color, does it really mean anything? Which is why we applaud Jojo Rabbit writer-director Taika Waititi for using his Oscar moment to advocate for something a little more solvable — but still deeply disturbing: the scourge of Apple's new laptop keyboards.
Asked backstage what writers should be asking for in the next round of Writers Guild talks, Waititi opined: "Apple needs to fix those keyboards. They are impossible to write on. They've gotten worse. It makes me want to go back to PCs, because PC keyboard, the bounce back for your fingers is way better … we've just got to fix those keyboards."
Relatable, annoying, and most importantly, easily fixable. Thank you, Taika, for using your platform to raise awareness about this medium-size problem.