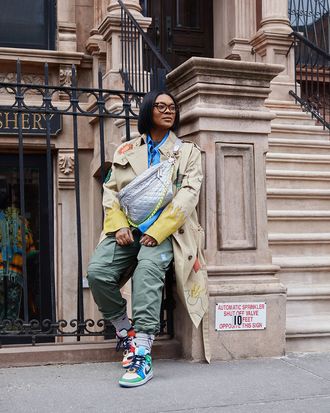 Ashlee Muhammad is a stylist, designer, and podcast host who has built her brand around what used to be her biggest insecurity. She was born blind in one eye, which is a shade of blue-gray. But if you know of Muhammad, you likely know her Instagram handle @BeEyeConic, which represents her lifestyle brand of the same name. Muhammad is also the style curator of a Harlem boutique that makes bespoke clothing, Harlem Haberdashery, and has styled celebrities like Teyana Taylor and ESPN host Molly Qerim-Rose.
Muhammad describes her style as "comfy cool," but I think that's underselling it. Her style is a bright, eclectic mix that includes yellow Crocs one day and a trench coat printed with doodles the next. The latest physical representation of that style is the bag she designed with the New York tote brand MZ Wallace. The bag, which comes out on February 11, is bright silver with a neon-green strap. Proceeds from the bag go to the nonprofit #TakeCareOfHarlem through MZ Wallace's philanthropic program, MZW Gives Back. It's available online and at Harlem Haberdashery.
We spoke with Muhammad about why she got into fashion, high heels, and the best seafood restaurant in New York.
What made you want to go into fashion? My grandmother and dad are easily the top reasons I wanted to go into fashion. They instilled in me at a very early age the importance of personal style. My grandmother never went anywhere not dressed to the nines. When she entered a room, everyone may have not always remembered her name, but they definitely remembered what she wore.
How do you thank someone for a gift? I usually thank someone for a gift by letting them know how I appreciate them, because I understand that they didn't have to give it.
What would you never wear? I probably will never wear crazy high heels, unless it's for a photo shoot and I'm sitting down.
What's your dream vacation? Wow. This just made me smile thinking about it. My dream is my husband and I and all of our children (with a nanny since it's a dream) on a monthlong vacation through Europe and Africa.
What's a good book on your coffee table right now? I actually just gifted my husband this really cool coffee-table book, Pharrell: Places and Spaces I've Been. It's a dream of mine to create a coffee-table book one day.
Last show you binge-watched? You on Netflix.
Secret to hosting a good party? Good décor, great food, and strong, yummy drinks, hopefully made with my spirit collection HH Bespoke Spirits!
What is a trend that you like right now? I am currently obsessed with sneakers and dresses.
One you don't understand? One trend I really don't understand right now is superlong nails. It seems like it would be so hard to get basic tasks done.
Favorite restaurant in New York? Cap't Lou'i. It's a seafood restaurant where the food comes in a bag and it's probably the best seafood you'll ever eat.
Shoes you wear most often? Nike Air Jordan 1's.
What's your favorite …
Pajamas? My husband's (Mustafa Muhammad) T-shirts.
Candle? Replica "By the Fireplace" by Maison Margiela.
Scent? "Honeymoon" created by my husband and me, available at @happilyevermuhammad.
Socks? Obsessed with Nike socks.
T-shirt? This oversized band tee from my brand BeEyeConic LLC.
Can you share three Instagrams or photos of yourself that define your style? And a brief explanation of why? 
This image describes my personal style because, honestly, there's nothing I love more than dressing like my twin boys. I am obsessed with their little personal style. Anytime I can be as cool as them, I'm happy.
This describes me because my style is such a mix of masculine and feminine. Pairing a sports bra with anything oversized just always looks so cool to me — and it's comfortable.
Two things that I'm obsessed with right now are festivals and a brand called Cactus Plant Flea Market. The brand was started by a woman who has such a cool and unique aesthetic — it's very similar to mine. Paired with pants from my BeEyeConic LLC collection, it's always a good idea.
Can you take a photo of your favorite space in your studio/office/home?And a brief explanation of why it's your favorite? This is my favorite in Harlem Haberdashery because it features artwork created by me.
Shop the Story
If you buy something through our links, New York may earn an affiliate commission.