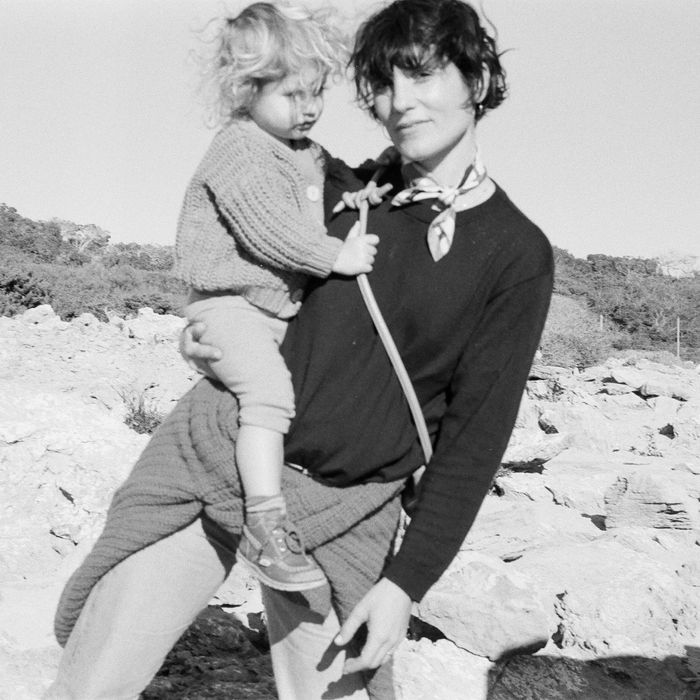 Photo: Courtesy of Marta Bahillo
Babaà sweaters look like your grandma could have, in theory, made them — assuming she's an expert knitter with an eye for the best colors and wools. They're thick and aesthetically simple with large buttons, and they come in an array of bright colors and shades of oatmeal. They've also built up a cult following, and The New Yorker recently published an article about their particular appeal to a group of women the author calls "organic moms," the ones who shop at a co-op and wear clogs with sailor pants.
Designer Marta Bahillo started Babaà in 2012 after studying textile design in Dublin, Ireland, and working in Argentina. Everything Babaà is made locally in Spain, mostly with Spanish textiles from Spanish sheep (you can learn about their shearing practices and mills on Babaà's site.) Bahillo wears only natural fibers, still gets movies from a "video club" in Madrid instead of having a Netflix account, and dreams of road-tripping through Europe. Read more below.
How do you thank someone for a gift?
Thinking of one to give back or sending a nice note or letter in the post.
What would you never wear? 
Anything acrylic or polyester.
What's your dream vacation?
Home with my family reading lots of books in bed. Or a road trip where the only plans are to camp out and swim in the sea. We do this often on our drive to our factory, as it happens to be in Barcelona. From there, we love staying along Costa Brava in Girona or, if we are lucky and have more time, we drive to the Camargue in the south of France. A few years ago, we kept driving, all the way to Florence. Every summer, I dream of the next summer's road trip. This past year, we drove from Barcelona to Galicia, where my family is from, along the Pyrenees and along the mar Cantábrico — a dream.
What's a good book on your coffee table right now? 
I'm loving Charlotte Perriand from the Fondation Louis Vuitton Paris — I loved the exhibition and love the book. And SON, by Christopher Anderson; I worked with him recently and love having this book so much.
Also Eamonn Doyle's Made in Dublin. I went to his exhibition in Madrid and had to get the book. His photos make me smell Dublin, my home away from home.
Last show you binge-watched?
The Wire in 2008, yep. While living in Buenos Aires with my husband, we watched it together on a laptop in bed and loved it so much. Now in Madrid, we just go to the video club every other week and get movies for us and the kids. It's a thing for us. We don't have TV access or Netflix, mainly because I never liked TV growing up, and so far my family has not complained about it.
Secret to hosting a good party?
Good guests. I like leaving room for things to happen, planning little, other than having good food and good drinks at hand. I always have Spanish red wine at home, plus plenty of vegetables and local sheep and goat cheeses so any day can be a party day.
Favorite restaurant in New York?
Pastis for people watching at lunchtime, Dimes Deli for breakfast always. I feel I have a lot to discover in NY!
Shoes you wear most often?
My Nike runners: good for dancing, good for playground, and good for work.
What's your favorite … 
Pajamas? A white cotton crew-neck T-shirt and Pansy high-rise underpants.
Candle? Beeswax only.
Scent? Lavender at home, fig for me.
Socks? 100 percent linen socks I bought in Japan in bright colors.
T-shirt? Any thick white cotton T-shirt long enough to tuck into my jeans.
What's your favorite place in your home/office/studio? 
My favorite place in my life is my kitchen, especially sitting on my kitchen table with my family or on my own. A lot happens there — lots of loving, sharing, creating, and thinking!
What are three photos that define your style? 
Messy hair, jumpers tucked into my jeans, bags probably with more Babaà knits inside them just in case, my favorite runners, and probably my camera hanging around my neck.
I always wear color and work a lot on it for Babaà. Since I never wear black, I am creating a separate black collection for Babaà. I'm trying to think of black as an amazing color as opposed to a lack of color.
This is how I dress nearly all year round, how I feel supercomfortable and good without thinking too much. I love dressing this way, love the everyday bits of life as opposed to the occasions.
Shop the Story
Available in sizes XS-XXXL.
If you buy something through our links, New York may earn an affiliate commission.