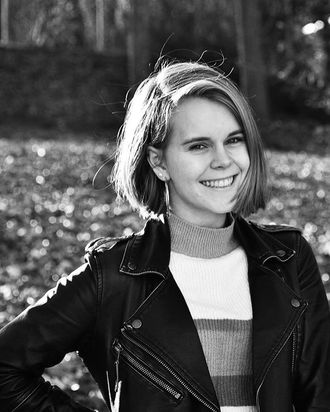 Tessa Majors, the Barnard student who was fatally stabbed on an early evening walk through Morningside Park.
Photo: tessmajors/Instagram
In mid-December, a Barnard student's murder in upper Manhattan rattled the city. On December 11, freshman Tessa Majors was on an early evening walk through a park near campus when she was approached by a group of teenage boys, who reportedly demanded that she hand over her belongings. Police say the confrontation resulted in a struggle. Then, per the New York Times, one of the suspects stabbed her, leading to her death.
"We lost a very special, very talented, and very well-loved young woman," Majors's family said in a statement the day after her death. "Tess shone bright in this world, and our hearts will never be the same."
By mid-February, police had arrested three suspects in the murder. Here's everything we know so far.
Tessa Majors, 18, was a freshman at Barnard.
According to the New York Times, Majors had recently moved to New York City from Charlottesville, Virginia, to start her first year at Barnard. She loved music, and spent her weekends practicing with her band, Patient 0, which had recently put out their first album. The Daily Beast reports that she had an interest in writing, and interned at a local newspaper last summer.
On December 11, Majors was fatally stabbed.
Around 7 p.m., Majors was walking through Morningside Park when a group of teens approached her near West 116th Street and Morningside Drive, police department Chief of Detectives Rodney Harrison said. While police have yet to name a motive, they say the perpetrators attempted to steal Majors's money and phone, resulting in a struggle. Harrison says that one of the assailants then pulled out a knife and stabbed Majors multiple times, and that the suspects — detectives believe there were three in total — quickly fled the scene. Majors, severely wounded, made her way up a flight of stairs and out of the park, and collapsed near the street. After a campus security guard found her unconscious, she was transported to Mount Sinai St. Luke's Hospital, where she died later that night.
Three boys have been charged in connection with the murder.
On the morning of December 13, police arrested a 13-year-old boy and charged him with murder, robbery, and criminal possession of a weapon. According to WABC-TV, the NYPD picked up the suspect on the afternoon of December 12 and were holding him for criminal trespass when he started to talk about Majors's murder, reportedly implicating himself. (He is being prosecuted as a juvenile.) The boy's lawyer subsequently asked that her client be released from detention and allowed to return home while he awaits trial on March 16, but a Family Court judge rejected the request, the New York Times reports.
Around 10:30 p.m. on February 14, NYPD officers arrested a second boy, 14, in connection with the stabbing, charging him with two counts of second-degree murder, one count of first-degree robbery, and three counts of second-degree robbery, according to NBC. He reportedly told authorities that he and two other boys confronted Majors and tried to take her phone, but "she was hanging onto" it, so he "hit her with a knife." On February 15, Police Commissioner Dermot Shea told reporters he was "confident that we have the person in custody who stabbed her." Police had already questioned and taken a DNA sample from this boy in late December, releasing him the same day without charges.
Police arrested a third suspect, also 14, on February 19, charging him with second-degree murder and robbery in the first and second degrees. According to the New York Times, prosecutors accused the teen of holding Majors in "some sort of headlock or bearhug" to keep her from fleeing the attack.
Although New York recently raised the age of criminal responsibility to 18, the city can still try suspects who are younger than 16 as adults if they have been accused of violent crimes and prosecutors deem it appropriate. The 14-year-olds, who are reportedly middle-school classmates, are being charged as adults, and pleaded not guilty on Wednesday.
The tragedy has rattled the Barnard campus and the community.
Hours after Majors was attacked, Barnard president Sian Leah Beilock wrote in a campuswide letter, "We mourn this devastating murder of an extraordinary young woman and member of our community." Mayor Bill de Blasio expressed similar shock in a news conference, saying, "It's terrifying to think that that can happen anywhere."
On the evening of December 12, thousands of Barnard students, administrators, and locals came together to mourn Majors, where they remembered her as bold, kind, and ambitious — someone who "lit up" any room she entered.
"I broke down in tears … I only met Tess last week, and we made such good friends the moment we met each other," Demetrius George, who met Majors just a week before her death, told the Columbia Spectator. "To find out this news was the worst."
"Listening to her music made me want to know her," Kira Tsougarakis, who attended the vigil, told the Spectator. "I'm sad for all the people who didn't — including me."
While many students have spoken out in the wake of the murder to reassure classmates that they shouldn't fear for their safety, some students say they've been on edge. "I was really, really scared on Wednesday night, Thursday and even today, just walking alone and being outside alone," Caitlin Walsh told a local CBS station last week.
The case has become thorny.
As the case has developed, it has become increasingly complicated. Days after Majors's murder, an NYPD union chief suggested that Majors was attempting to buy weed in the park at the time of her death — which Majors's family slammed as victim-blaming, and criminal-justice reform activists condemned as part of an attempt to ramp up the criminalization of cannabis. Meanwhile, questions have arisen surrounding detectives' questioning of the initial 13-year-old suspect.
According to the New York Times, the teenage suspect told investigators that he and two of his classmates from a nearby public school had entered Morningside Park to rob people. (He also told detectives he picked up the knife used to stab Majors.) But on December 17, a public defender argued in court that the boy only made those assertions after being badgered by a detective with leading questions. According to the public defender, the boy had initially repeatedly denied having any knowledge that his friends wanted to rob Majors; furthermore, the detective questioned the boy without a lawyer present.
"We are absolutely troubled by the fact that our client was questioned and interrogated by police without an attorney present," the Legal Aid Society, which is representing the 13-year-old, said in a statement. "We must ensure that our client's constitutional rights are not violated."
But Judge Carol Goldstein didn't appear to be too concerned with the detectives' questioning. On December 17, she ruled that there was enough evidence to proceed in the case against the boy, as she believes his statements prove "he intended to commit a robbery." The Times reports that Goldstein also noted that the boy touched "the knife that was ultimately used to stab the victim."
This post has been updated.