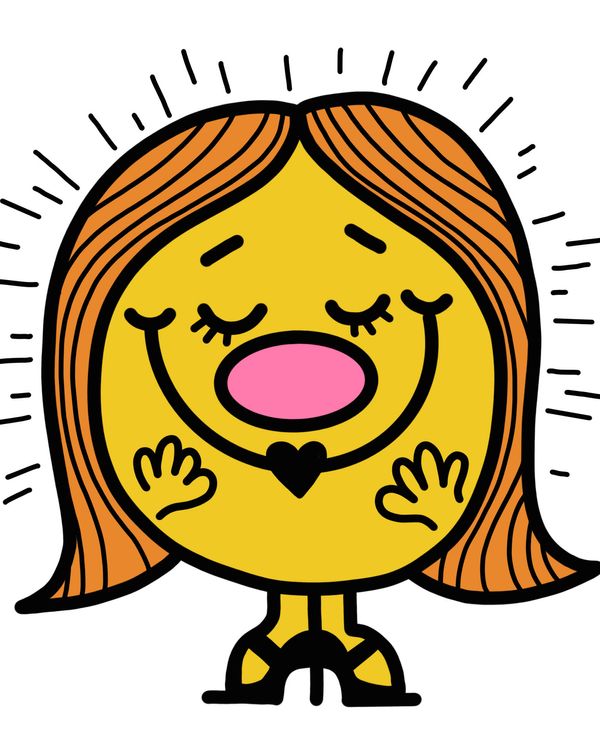 We updated Roger Hargreaves's Little Miss and Mr. Men universe as a suggestion to include some of our new emotions. 
Illustration: Zohar Lazar
This week, the Cut is exploring a scientific theory that suggests we have infinite emotions, so long as we can name them — and so we did, asking writers to identify new ways to feel.
Feminamity: The warm glow you get when another woman hypes you up.
In sixth grade, right before the first school dance of the year, I had a fight with one of my best friends. We had been growing apart for a while in a way that can only be worsened by middle school. I was a shrimpy Chinese girl with glasses and a Les Miserables obsession. She came from a wealthy family that owned two dogs and could afford Juicy Couture tracksuits. I had to beg my mom to take me to Walmart for new clothes.
We were both in the girls' bathroom when it happened. I was wearing a new outfit: a skirt, Dr. Scholl's platform sandals, and a pink flower shirt with ruffle sleeves. For the first time in my young teenage life, I felt beautiful. But Emily S., with her new posse of girls who used curling irons and Wet 'n Wild lip gloss, was determined to nip that right in the bud.
"You've been nothing but mean to me since school started," I told her. Outside, Usher's "Yeah!" started to raucous cheers.
"Why are you sticking your boobs out?" she replied, sneering. The girls in her posse tittered.
"Stop sticking your boobs out! Jenny's sticking her boobs out!"
That was the first time I experienced what Mean Girls coined as "girl-on-girl crime." In that dingy bathroom, as Usher orchestrated 300 sweaty, hormonal bodies into dance moves we would all regret later, my body was used against me. That day, she left the bathroom victorious, and I stared at myself in the mirror, wondering if I had indeed been sticking my boobs out or if I was just trying to stand up straight.
This echo of girl-on-girl crime followed me, as it does for so many of us, through middle school, high school, even college. I found myself distrusting other women, always believing them to have ulterior motives meant to cut me down, just as Emily S. had done that day in the bathroom.
It wasn't until I had my first job — at a tech start-up in Austin — that this began to change. On my first day at the company, a group of my female co-workers invited me to lunch. I found out that they had monthly lunches together because they were the only women in a company of 60. I stayed at that company for five years. I worked closely with other career-driven women who were just slightly older than me. We became friends and, more important, lifeboats for each other in an industry dominated by men, a muscular coalition of support and solidarity. For the first time, I felt something other than girl-on-girl crime. Around those women, all I felt was a warm glow.
This glow comes to me regularly now. Like after the election, when I made eye contact with another young woman at CVS and we both gave each other a quick, sad smile. Or having my manager, a woman, defend me in front of our male co-workers. Or simply getting complimented on my outfit, hair, or earrings by a stranger on the street. These moments of feminamity are not superficial. For me, they are radical moments of understanding and empowerment. Veiled in compliments is the same message over and over again: Keep going.
The most common form of feminamity happens in bathrooms at bars and clubs. You're waiting for the toilet, washing your hands, or fixing your hair. Another woman, a little tipsy, maybe topsy-turvy drunk, accosts you with her sweet, eyes-half-shut warbling. She tells you you're both doing great. She tells you you look beautiful. She tells you she loves you.
I don't know how many times I've been told "You're beautiful" in the bathroom or how many times I've told another woman that she's beautiful in the bathroom. All I know is that when it happens, that warm glow gets something close to burning.