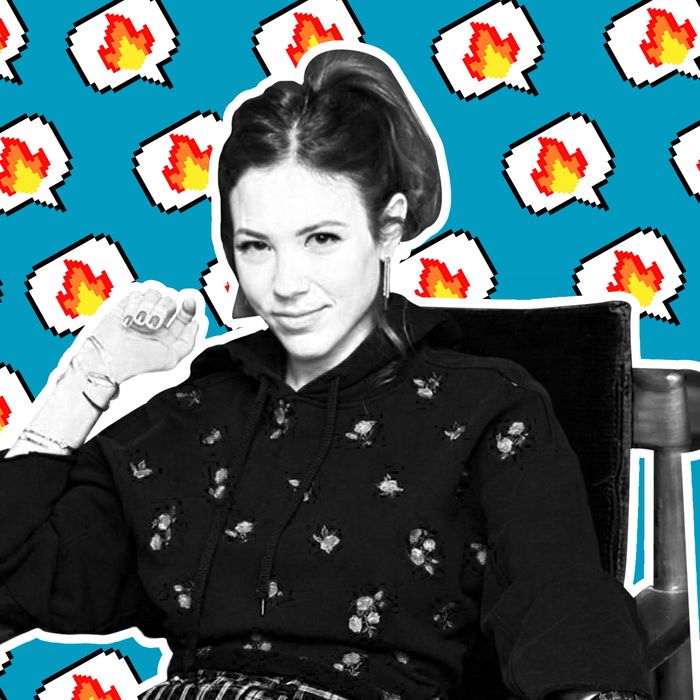 Photo: Courtesy of Lindsey Metselaar
Thanks to the success of lovebirds who (*gasp*) met via mobile apps, internet dating in 2020 has officially lost its stigma — yes, you too can be a happy couple who met online! Still, it's important to understand the dos and don'ts of dating in the new decade.
On Bumble, the dating and networking app where women make the first move, there are a variety of features helping to create an easier and altogether better experience. Still, for those of us looking for love in the digital age, some burning questions remain. In search of answers and advice on how to Bumble better, we sat down with podcast host and modern dating expert Lindsey Metselaar of We Met At Acme for a series on love, life, and relationships worth swiping for. Read on for her hot tips on how to have a top-tier dating app experience, no matter what kind of connections you're looking to make.
ICYMI, here is Lindsey's advice for getting more matches on Bumble.
I'd bet the opening lines that get the best response on Bumble are funny and different. Saying "hey" or sending a wave emoji can be redundant and frankly boring. When making a first impression, you want to stand out and showcase your personality. Asking a question is a great way get the conversation started. A personal favorite of mine is, "What conspiracy theory do you believe in?" (But I'm a little weird!) Or you could go for something like, "We're on a road trip and stop at a gas station. What three items do you buy?" This can also reveal a lot about someone's personality from the start. Hopefully they've filled out their bio so you can play off of that, but even if they haven't, questions still work well. You can try a simple "would you rather" question, like "pancakes or waffles?" or "pizza or burgers?" And if you're really at a loss for what to say after matching, Bumble provides conversation starters in the app to help you out.
I don't think you need to wait a certain amount of time to respond to someone who you've been talking to on Bumble. I've never judged someone for responding too quickly. And if your conversation is going well but a date hasn't been set yet, why don't you be the one to suggest it? On Bumble, women make the first move anyway, so you might as well feel empowered to keep it up. If it seems like the feeling is mutual, you have nothing to lose. And if they don't respond well to you initiating, move on to the next.
Why limit yourself? Don't put all your eggs in one basket right from the start. In so many ways, meeting someone you've hit it off with on Bumble is a numbers game. The more people you talk to, the more likely you are to meet someone great. These days, you never know what could happen.
If you're starting to like someone but not looking to settle down right away, be honest with them that you want to keep your options open. Communication is key. However, if you do meet someone you want to start seeing exclusively, Bumble lets you hit Snooze and hide your profile from other potential matches (and keep your connections from expiring) while you figure out if this one is the real deal.
I think people can make the mistake of exchanging messages for too long on Bumble before going on a date. The conversation can die before you've even tested the chemistry in real life. I'd say chat for no more than two or three days before setting a date. If you're not ready to take the first date step yet, you can video or voice chat within the Bumble app beforehand. If you don't hear from someone immediately after your date, there's nothing wrong with being the first to reach out, especially if you feel super-confident that you two hit it off. If you're into them, go for it!
When you first start seeing your Bumble match, think about what you want — or need — to know about them. I like to start with light-hearted questions and topics on a first date, but it all depends on what you're curious about! If it would help you feel more comfortable and informed before the date, figure out what you already know from their Bumble profile. What artists are they listening to on Spotify? Where did they recently travel, per their Instagram? Why did they choose their Bumble badges? Take a little time to see what can be turned into first date conversation and potentially lead to a deeper connection. You can always start with the basics — where they grew up, favorite shows, books, etc. and go from there. Don't worry about being interesting, just be interested.
Most importantly, take into account how you feel on that first date. Do you feel at ease? Is your date interested in what you have to say, and vice versa? These are signs of a good connection! The reality is, not every date is going to be perfect, and that's okay. Go into your dates with an open mind — ready to listen, learn, and be your authentic self. You never know what kind of exciting connections await.
Download Bumble and start swiping, here.
This is paid content produced for an advertiser by New York Stories. The editorial staff of The Cut did not play a role in its creation.