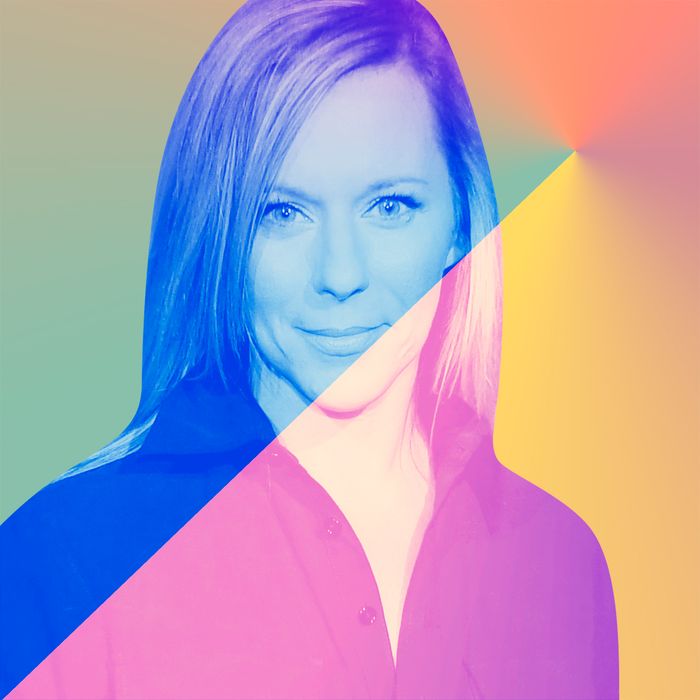 Photo: Courtesy of Kiehl's Since 1851
Ginny Wright remembers the first time she discovered Kiehl's products.
"It was around 1999 or 2000. I was living in Atlanta at the time, reading InStyle or Allure, and I come upon this brand I never heard of. ' All these celebrities use Kiehl's Creme de Corps,' and 'All these stylists use Kiehl's Silk Groom.' Where could I get these products?" recalls the brand president of Kiehl's Since 1851 (the company's official name). She hightailed it to Neiman Marcus and stocked up. "For the next ten years, any time I sent someone a gift, it was either bottles of wine or a package of Kiehl's."
The Greensboro native was into both beauty and fashion growing up, but attended University of North Carolina–Chapel Hill, in hopes of becoming a press secretary on Capitol Hill. Instead of joining her friends at the beach for spring break senior year, Wright spent it walking the halls of Congress and dropping off her résumé. Republican congressman Fred Heineman hired her.
"Lindsay Graham and Richard Burr were on the same floor, and Bernie Sanders was around the corner," she remembers. "It was not as politically charged, but it was the beginning of the breakdown between the two parties. Still, whether you worked for a Republican or a Democrat, we all went to the same keg parties."
A year later, she moved to Atlanta to work in public relations (General Motors, Georgia Pacific, St. Jude's Children's Hospital, to name a few clients). She wanted to be in beauty, so she moved to Paris with her new husband and got her MBA from ESSEC International Business School. Upon returning to the States, she did a dizzying tour of major beauty companies: launching a European Designer Fragrances Division for L'Oreal, overseeing retail marketing for Lancôme, launching Polo Red for Ralph Lauren Fragrances, returning to Lancôme to concentrate on its retail relationship with Sephora. After a yearlong stint at a start-up and some more time working on Ralph Lauren campaigns, her "dream job," as she calls it, came up.
"Kiehl's is the brand that aligns most with my own ethos," says Wright. "Here's a brand that believes in sustainability and equality for all and giving back to the community. My purpose in life is to change things for the better, and to work for a brand that feels the same way, I feel good about coming to work every day. Plus, I'm a skin-care junkie."
Wright spoke with the Cut about her tolerance for hot weather, turning her phone face down, and the reality beauty show she'd like to see.
What's your definition of beauty? A strong feeling or connection when you see someone or something that creates inspiration and appreciation.
 
What do you think of when you hear the term "clean beauty"?
Beauty products that are sustainable and formulas that don't have a negative impact on the environment or your body.
Where, if anywhere, in your beauty (or life) routine are you not quite that "clean," "green" or "sustainable"? Gum brushes and Q-tips.
 
Fill in the blank as it pertains to your beauty or wellness routine: I think about _______ a lot. Not listening to that voice inside my head telling me to eat chocolate or peanut butter after 9 p.m.
What is the opposite of "beautiful"? Hate, intolerance, and malignant narcissism.  
What is your morning skin-care routine? Right now I am using a soon-to-be-released Kiehl's "super serum" which features a smaller molecule of hyaluronic acid, Revision Skincare Nectifirm, Kiehl's new Powerful Strength Dark Circle Reducing Vitamin C Eye Serum, SkinCeuticals Hydrating B5 Gel, and Kiehl's Super Fluid Daily UV Defense SPF 50+.
 
What's the last beauty product you use every night? Kiehl's Buttermask for Lips.
What aspect of your beauty routine tends to be neglected? Getting my hair trimmed on a frequent basis. I'm lucky if I go three times a year.
What, if anything, is usually on your lips? Kiehl's #1 Lip Balm and Kiehl's Love Oil in Botanical Blush.
What shade, if any, is usually on your toes and/or hands? Essie Hi-Maintenance for hands, and Essie Bordeaux on toes.
Mascara of choice: Lancôme Hypnôse.
Foundation of choice: Giorgio Armani Luminous Silk Foundation.
What makeup item would you never skip? Lip balm.
Hairbrush of choice: Wet Brush Detangler Hair Brush. My daughter and I both have naturally curly hair, and it's the best to get the conditioner through and the tangles out without tears.
 
Facial cleanser of choice: Kiehl's Cannabis Sativa Seed Oil Herbal Cleanser. It calms my skin, especially after a workout.
Fragrance of choice: Atelier Cologne Santal Carmin or Orange Sanguine.
Bath or shower? Preferred bath/shower product: Shower, it's my creative brainstorming time. Kiehl's "Made for All" Gentle Body Wash. It's formulated to be 100 percent biodegradable, and the bottle is made with 100 percent post-consumer recycled materials.
Deodorant of choice: Kiehl's Superbly Efficient Deodorant Cream.
Shampoo/conditioner of choice: Any Kérastase combination, but right now I am using Kérastase Bain Chromatique Shampoo and Kérastase Résistance Masque Force Architecte.
Most relied on hair product or tool? T3 Professional Straightening & Styling Iron.
What discontinued beauty product do you mourn? Nars Baby Doll Lip Lacquer Gloss. I wore it during the 2000s living in Atlanta when I idolized Carrie Bradshaw and all things Sex and the City.
What beauty product still needs to be invented? Either a machine that could convert thinking to a physical burning of calories, or a device that could read your skin's needs, incorporating weather and routine, and provide a customized formula on daily basis.
What was your first beauty product obsession? How old were you? How did you discover it? Clinique Sugar Grapefruit Lip Stick at 15. A model in Elle magazine wore it on the cover. It was my lip color throughout my freshman and sophomore year in high school.
Daily carry-all of choice: Ralph Lauren Calfskin RL 50 Handbag with a Salt Zoe Strap.
Wear eyeglasses? Who makes your frames? Sunglasses are Ray-Ban Wayfarers and Smith Crusader, reading glasses are SEE, and Prescription Frames are Dita.
How do you like your bed? Crisp and cozy with Sleep Number Mattress set at 45, and Serena & Lily comforter and sheets.
How do you like your living room? Mid-century modern meets southern gothic. Light gray, charcoal gray, teal, and pops of color. I especially love my husband's art installation that hangs above our sideboard.
What do you splurge on? Clear and Brilliant laser treatments and weekly manicures.
What do you scrimp on? Water. I drink New York City's finest filtered tap water with a splash of lemon.
What is your classic uniform? Derek Lam Blazer, Alternative T-shirt, J Brand Jeans, or a Ralph Lauren Flight Jump Suit.
What shoe are you usually wearing? To and from work are Vans, at work Sergio Rossi pumps, weekends are Brooks Running Shoes or Chloe Boots.
Current favorite fashion item in your closet: My Rag & Bone black wool hat.
What do you own too many of? Nation, Joie and Michael Stars white T-shirts and tank tops.
What color is your usual pop of color? I love teal and purple, together.
Facialist of choice: Jordana Mattioli at CompleteSkinMD and Shamara Bondaroff of SB Skin for her microcurrent facial.
What word in "beauty" is overused? Promotion.
If you were a makeup shade, what shade would that be? When Sunlight Hits the Ocean.
What beauty-related reality show, if not invented yet, would you watch? I would love to see a Real Business Executives of Beauty. I think there are so many amazing women in this business who support each other. Also, a beauty version of Fashion Police — Beauty Police — calling out good and bad makeup would be total junk food TV.
What skill are you a consummate failure at? Writing neatly when I'm writing quickly. I barely can read my own handwriting half the time.
What song is usually in your head? The Beatles' "Dear Prudence."
What would the name of your autobiography be? Made It Happen the Wright Way. Cheesy, but with my last name it works.
Who would you like to star as you in the film adaptation? Jennifer Aniston, then get Brad Pitt to play my husband. It would make everyone happy.
Favorite smell? My mom's French toast.
Least favorite smell? Dog urine on the sidewalk on a hot summer day.
What do you think Pantone's color of 2020 should have been?
Magenta. We need the mix of red, which brings power, strength, and courage, with blue, which brings honesty and clarity — combined together to be cool-headed yet daring in this complex, challenging, chaotic year.
What do you most often disagree with others about? How hot is hot. Ninety degrees feels great to me.
What must you adjust or fix when you see it done incorrectly? I have a list of pet peeves, and they are so specific that my husband actually created a series of  "red cards" on the things that annoy me. For example, people who use a turn lane as a merge lane.
Favorite CBD product: Lord Jones Gel Capsules.
Comfort food: Almond butter and honey.
Vice: Diet Dr. Pepper.
Most impressive dish you make: Seared tuna with sautéed peppers and fresh guacamole.
What food would you never eat? Pork skins and pig's feet.
 
What do you foresee as the top beauty trends for 2020? We will continue to see the evolution of personalization and adaptation to the individual, with convenience as a given. Connection to the customer via services and engaging experiences will be just as important as product. Demand for transparency from ingredient sourcing to packaging. Hopefully color cosmetics will make a comeback later this year when we feel more stability and hope.
What product in your brand's product domain is misunderstood and should be a best seller? Kiehl's Nourishing Dry Body Oil. It is heaven in a bottle. It smells great, it feels amazing, and leaves skin glowing and soft.
 
What product in your brand's product domain is currently your favorite (understanding that this could change all the time)? Kiehl's Creamy Eye Treatment with Avocado. I use this at night to repair the skin barrier around my eyes and replenish moisture. On my most recent trip to L.A., Kiehl's customers (including the famous ones) shared their love of this amazing eye cream.
 
If you won the Power Ball tomorrow, what are the first five things you would do? (After, of course, donating the majority of it to your top charities …) Get a dog for our family, buy a house on Sullivan's Island in South Carolina, take all my besties to Costa Rica for a surf trip, get my mom to open a gym in NYC then make her move from North Carolina to New York so she can train me everyday, max the allowable contribution to my friend Cal Cunningham who is running for a U.S. Senate seat in North Carolina.
Not to get too philosophical, but … what do you want? I want a world where freedom, equality, liberty and justice are commonplace, and a world where my kids will not have to worry about the environment, the water they drink, or the air they breathe.