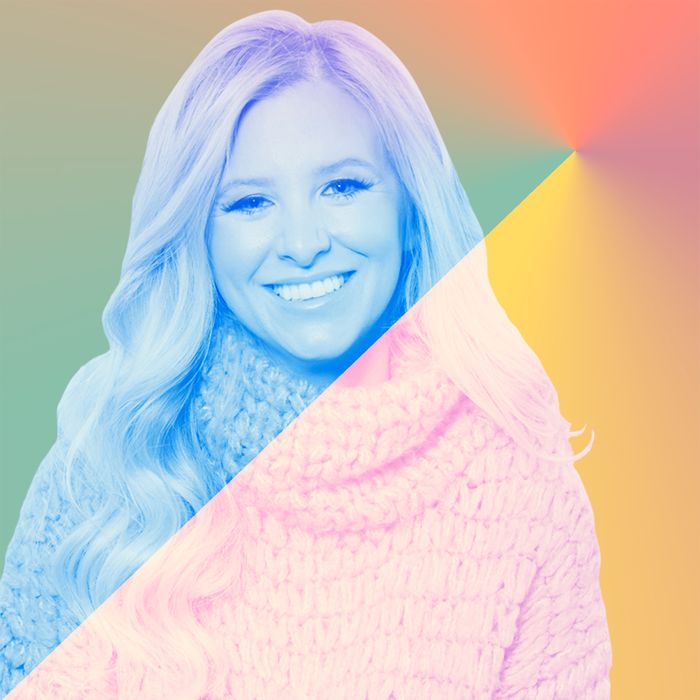 Photo: Courtesy of Deciem
Nicola Kilner is the epitome of composure. The CEO of Deciem's confident air and gentle, lilting voice exude an affable positivity.
It's likely what drew Deciem's creator Brandon Truaxe to her. Well, that and her brains, business savvy and infinite energy. The two met when she was a beauty buyer at Boots and he was a co-founder of Toronto skin-care brand Indeed Labs.
"My role was to look at all the new things happening, and that's how I met Brandon," she explains. "It was like falling in love, because he was such an inspiration."
The two soon left their respective jobs to create what would ultimately become Deciem. "Brandon was so bold and brave with what he was doing," says the Sheffield, England, native. "When we started showing our concept around, a few people said to us, 'It'll never work, customers will never understand it.' They said we needed to organize the lines by category (anti-aging, brightening) and Brandon said, 'No. We're doing what we're doing.' He was always happy to challenge the status quo."
Deciem launched in 2013 with three brands under its umbrella and the tagline "the abnormal beauty company." Consumers gravitated toward the advanced science of NIOD and appreciated the surprisingly low prices of The Ordinary. In 2017, Estée Lauder made an undisclosed investment in the company. As the business grew, so did Truaxe's erratic behavior, eventually firing Kilner and threatening to close the company down. In 2018, Lauder filed a lawsuit, and an Ontario judge ruled that Truaxe be removed from his post. Three months later, he fell (or, quite possibly, jumped) to his death from his Toronto apartment.
"What we went through last year was hell, and it shouldn't be in vain," says Kilner. "Mental health is still a taboo, and we actually don't understand what the early signs are. We need to understand what causes addiction and mental health. We want to start the conversation that it's okay to not be okay."
In the meantime, her steady hand currently oversees five brands, with three on deck and many more in the pipeline.
"Our brands are about so much more than formulations," says Kilner. "People want to see the world in a more human way, which is why we're transparent, and why we'll never use models in our ads. Beauty shouldn't be sold on fear."
Kilner spoke with the Cut about her frustration with marketing scare tactics, the importance of comfort, and why she'll never go without mascara.
What's your definition of beauty? It's hard to give a definition of what I think "beauty" is, but I can tell you what I find beautiful. I find beauty in the vulnerable, human aspects of life and people. The nights when I've wrapped up an intense day at work and get to go home and enjoy my baby daughter, when there's a funny typo in an email, or learning more about everyone at Deciem beyond just what they bring to the table work-wise. What inspires them? Who are they when they leave work? I love the small, intimate human moments that are so often hidden or disguised. You will find this slogan in our stores because I really believe it's true: Beauty Is Being Human.
What do you think when you hear the term "clean beauty"? Frustration. These words don't have any sort of substantial, enforceable backing behind them. It's even more upsetting because labels such as "clean" typically target consumers' fears and worries, and inauthentically so, in order to take advantage of their concerns for profit. The way the industry has taken the legitimate concerns of our audiences, and created these deceptive marketing practices to prey on their fears, just leaves me with a lot of frustration. It further muddies an already confusing industry.
Where, if anywhere, in your beauty (or life) routine are you not quite that "clean," "green," or "sustainable"? My role involves a lot of travel, and I'm always conscious of the environmental impact. We do invest in carbon offsets as a company, but it's always on my mind.
Please fill in the blank as it pertains to something about your beauty or wellness routine: I think about _______ a lot. Deciem's people and legacy.
What is the opposite of "beautiful"? Being mean. I think it goes against our true human nature, and is one of the "ugliest" human qualities.
What is your morning skin-care routine? I don't tend to cleanse in the morning, so will use the opportunity to use a mask or treatment such as our Flavanone Mud or Sanskrit Saponins. I will always use our Copper Amino Isolate Serum, but the rest tends to change a lot as my role involves trialling many of our new concepts from the lab.
What's the last beauty product you use every night? NIOD Hydration Vaccine.
What aspect of your beauty routine tends to be neglected? My nails! Having a 1-year-old means short and tidy is the only option.
What, if anything, is usually on your lips? If I'm going out or know I will be on camera for any reason, I always use our Lip Bio-Lipid Concentrate from NIOD. It plumps and smooths out my lips for the entire day, and I find makes a noticeable difference in how healthy they look, too. On a typical day, though, I will use The Ordinary Squalane to keep them hydrated.
What shade, if any, is usually on your toes and/or hands?Fingers are always natural — a clear color, if any. On my toes in the summer I like a bright pink from Zoya.
What makeup item would you never skip? Because I'm fair, it would have to be mascara. Benefit's They're Real is my go-to.
Facial cleanser of choice: The Ordinary Squalane Cleanser. I love the end-of-day feeling as the balm melts into my skin.
Fragrance of choice: Avestan. It has a very personal connection to Brandon.
Bath or shower? Preferred bath/shower product: Shower to get clean, bath to relax. My preferred bath product is from our upcoming Loopha, a line of bath and body with experiential fragrances. But it's not out yet.
Most relied on hair product or tool? T3 Volumizing Hot Rollers. My hair is quite fine so I find it an easy way to add volume.
What beauty product is always in your travel bag? Hand Chemistry!
What beauty item do you usually forget to pack? Hair styling products.
What discontinued product do you mourn? Stemm Shampoo.
What beauty product still needs to be invented? It's currently being worked on in our lab …
What was your first beauty product obsession? Blusher, which I applied far too heavily in the totally wrong shade. I was probably 15.
Daily carry-all: Burberry backpack with my initials on. I received it as a wedding gift.
How do you like your bed? Made, with Rivolta Carmignani linens. I once stripped our bed at the Rosewood Hotel in London to find out what sheets they use, and have kept my own set ever since
How do you like your living room? Homey, with lots of photos of family — both by blood and chosen.
What do you splurge on? Comfort. During an Elle shoot last spring, the incredibly talented Schanel Bakkouche pulled a few Bonpoint pieces for my daughter Mila. Since then, I find myself splurging on the sweetest cashmere baby jumpers. I need a matching mum size!
What do you scrimp on? Water. In countries where tap water is drinkable, I believe packaged water is an unnecessary driver of waste.
What is your classic uniform? Mum uniform: baggy jeans, slouchy sweats, and trainers. CEO uniform: usually a floaty dress. We recently did a partnership in North America with The Ordinary x Club Monaco and I lived in their knit dresses this winter. I start pulling out my Realisation Par, Reformation, and Yoli and Otis when spring hits. At home I love the Re/Done jeans as they're made from vintage Levi's and given a new life that happens to come with a great fit. Trainers are Everlane or Gucci.
What shoe are you usually wearing? Grenson Nanette boots.
Current favorite fashion item in your closet: My favourite things to invest in are jewelry, which I hope one day I'll pass onto my daughter.
What color is your usual fashion pop of color? My wardrobe is very muted in tones — something I would like to change!
If you were a makeup shade, what shade would that be? A coral blush. It's a happy color that imitates the innate human action of smiling.
When you check into a hotel room, what's the first thing you do? Look to see if there is a view. Then read the food service menu. I rarely eat in the room, but I love reading menus.
What is your personal definition of misery? Living in a state of fear or worry. That is why it is vital for me to make Deciem the best company in the world to work for. I want everyone at the company to feel like they are a part of our family — secure and in the best care possible.
What is your personal definition of glee? Being in a state of creativity and inspiration.
What would the name of your autobiography be? Kind Is the New Cool.
Who would you like to star as you in the film adaptation? Blake Lively.
Favorite smell? Gurney's Montauk in the off-season. The smell at the beach is so briny and crisp, I wish I could bottle it.
What do you think Pantone's color of 2020 should be, and please explain why? I believe Classic Blue is a perfect choice, as it was one of Brandon's favorite colors.
What do you most often disagree with others about? How to run a business. We do everything very abnormally at Deciem, and it works for us. Our model doesn't make sense to everyone, but it does for us. We operate with kindness, common sense, integrity, and transparency.
What must you adjust when you see it done incorrectly? The way our products face in store!
Comfort food: Fries with ketchup and mayo.
Vice: Diet Coke.
Most impressive dish you make: Lasagna.
What do you foresee as the top beauty trends for 2020? Transparency. I think the shift in the industry has gotten so great that no brand will be able to continue, let alone grow, without becoming hyper transparent about their formulations and business practices — especially when it comes to the environment. I think we'll see a lot of new recycling programs, overhauled and innovative new sustainable packaging from many brands, and a new focus on ingredients and percentages being at the forefront of skin-care marketing.
What product in your brand's product domain is misunderstood and should be a best-seller? NIOD Copper Amino Isolate Serum 2:1. This product features freshly assembled Copper Peptides, which in my opinion will be one of the next great skincare ingredients that everyone wants to get their hands on — expect to see more products hit the market with them. Copper Peptides essentially put your skin into a rapid state of repair and help it carry out all of its natural functions better, so this product improves many skin conditions.
What product in your brand's product domain is currently your favorite (understanding that this could change all the time)? The Ordinary Squalane Cleanser. It's one of our newest launches from The Ordinary and currently the only cleanser in the line, so I've been giving it a lot of attention lately. I just love how extremely simple, gentle, and affective it is.
Not to get too philosophical, but … what do you want? To make the world a better place. I know that seems cheesy, but it is true. I think about my daughter Mila, and what the world will be like when she is grown. I've been given an incredible opportunity to make an impact through Deciem, and I take that very seriously. While we can't change the whole word, we can change the beauty industry, how our company operates, and impact the nearly one thousand people that work with us. When all is said and done, I want to look back and have had Deciem change the industry for the better — to be kinder and more real.