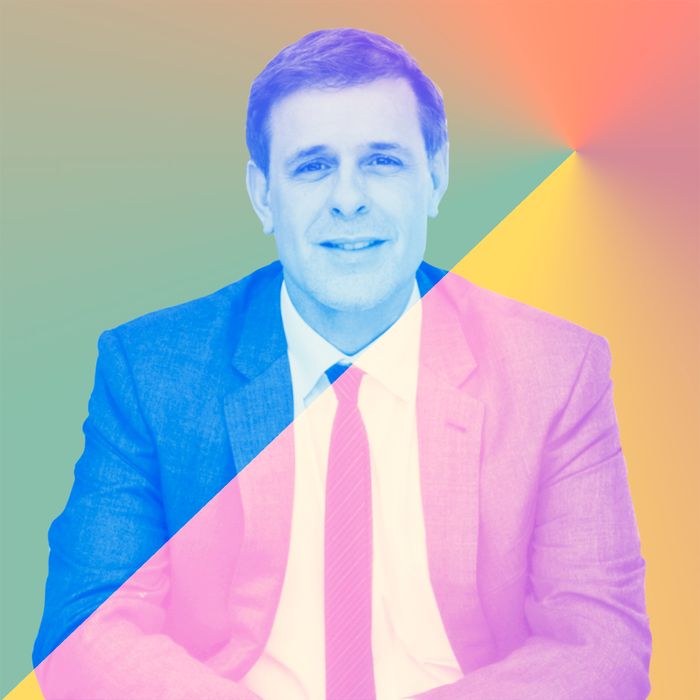 To call cosmetic dermatologist David Colbert a Renaissance man isn't much of a stretch. He speaks several languages, including Russian; he surfs; he has competed in both hockey and figure skating; and he was a dancer at the Joffrey Ballet. He enjoys listening to classical music ("Prokofiev is my favorite") and buying art — his collection features works by Keith Haring, Banksy, and Kim Gordon, although he focuses mostly on emerging artists (he even owns a gallery to help sell their works).
But Colbert's first love has always been tending to the complexions of actors, models, editors, and even other dermatologists at New York Dermatology Group (NYDG) in New York's Flatiron District. Spanning 7,000 square feet, the space houses two cryotherapy machines, an IV-infusion suite, and eight treatment rooms that are larger than most New York bedrooms. NYDG is almost more beautiful than the patients who visit it — which is saying a lot, since among those patients are actresses Robin Wright and Catriona Balfe and models Amber Valetta and Karen Elson.
Colbert's interest in medicine began early.
"When I was a kid, a neighbor of ours was a surgeon and a pathologist, and I thought that was the coolest thing," remembers the Iowa native. "And all my toys were medical-related: chemistry sets, microscopes, play doctor's kits, and, of course, Operation. I couldn't get enough of that game."
He studied zoology and romance languages at the University of Iowa, then considered working for the State Department after graduation, but 90 days in, relations with Russia kind of cooled that plan. So he moved to New York and became a dancer. I'll let him explain.
"Joffrey had come to the University of Iowa for a year of workshops that I attended. A teacher suggested I come to New York to audition, so I did."
He was with the company for two years, until a broken foot steered him toward medical school.
After residencies in Montreal and New York, he did a stint in skin sensory research at what is surely the chic-est lab in Paris (Chanel) before returning to New York, where he opened a practice in Chelsea.
He eventually moved east to Fifth Avenue and in 2017 expanded to what is now NYDG. Along with the practice, he oversees two skin-care lines, NYDG Skincare and an eponymous one, whose latest addition, Colbert+ CBD Face Oil, launched late last year.
"As a dermatologist, I work closely with both our chemists and patients to make certain we're delivering a masterpiece," says Colbert. "The product has to be both effective as well as have a luxurious texture. If it doesn't, we go back to the drawing board."
Colbert spoke with the Cut about the ambiguity of the term "clean," the merits of low lighting, and his ongoing attempts to break up with sugar.
What's your definition of beauty? Being authentic is beautiful.
What do you think when you hear the term "clean beauty"? Clean beauty is a marketing trend and a facet of beauty that hasn't quite thoroughly defined itself yet. As a board-certified dermatologist, I believe in using the best products from both science and nature. I believe skin-care ingredients should be efficacious and fortified. As with any new trend, time will tell. Meanwhile, my apartment is clean!
Where, if anywhere, in your beauty (or life) routine are you not quite that "clean," "green," or "sustainable"? I keep buying new surfboards, but I always try and donate my old ones.
Please fill in the blank as it pertains to something connected to beauty or wellness: I think about _______ a lot. Surfing and getting back to nature.
What is the opposite of "beautiful"? Not being true to yourself.
What is your morning grooming routine? Hot shower. Shave with Illumino face oil. Kiehl's Amino Acid Shampoo and Kiehl's Ultimate Man Body Scrub Soap. After the shower, I apply Colbert MD Nutrify & Protect Day Lotion followed by two drops of Colbert+ CBD Face Oil and Susanne Kaufmann lip balm.
What's the last product you use every night? Colbert MD Retensify Firming Cream.
Who cuts your hair? Teddy Charles.
Fragrance of choice: Vetiver Extraordinaire by Frederic Malle.
Razor of choice: Gillette Sensor.
Bath or shower? Shower, with Kiehl's soap and Red Flower Italian Blood Orange Purifying Body Wash.
What was your first grooming-product obsession? Nivea in my grandma's medicine cabinet when I was 13.
What do you carry your stuff around in? Black Diamond backpack.
Who makes your eyeglass frames? Warby Parker.
Sunglasses of choice: Ray-Ban.
Outerwear of choice: Triple Five Soul vintage arctic parka.
Favorite watch: My grandfather's Rolex.
Favorite wine: Pursued by Bear makes a great red. It's Kyle MacLachlan's label from Washington State.
Who makes the softest T-shirts? Robin Wright's clothing line, Pour les Femmes, is about to launch men's tees, designed by her husband, Clement Giraudet. They're super-soft.
Workoutwear: Billabong surf trunks.
Tennis shoes of choice: Hoka.
How do you like your bed? I love my Ligne Roset bed because it's big and low to the ground. Easy for the dogs to jump on.
How do you like your living room? Tons of plants, low light, and quiet. Sometimes Yo-Yo Ma softly playing the cello.
What do you splurge on? Cashmere socks from Brooks Brothers and gloves.
What do you scrimp on? Cable bills.
What is your classic uniform? Rag & Bone jeans and a black T-shirt.
What shoe are you usually wearing? Varda boots.
What do you own too many of? Paintings!
What is your personal definition of misery? Hiccups.
What is your personal definition of glee? Surfing.
What was the most recent interesting conversation you had? With a friend of mine who's a philosopher, about existentialism and how existence precedes the essence of a person.
What would the name of your autobiography be? Skin City.
Who would star as you in the film adaptation? The Belgian actor Matthias Schoenaerts.
Favorite smell: The ocean.
Least favorite smell: Calvin Klein Obsession.
What do you think Pantone's color of 2020 should be? Blue, because it is the opposite color of Donald Trump's hair.
What do you most often disagree with others about? The difference between expertise and marketing.
What must you adjust or fix when you see it done incorrectly? Botox, fillers, lasers, and liposuction — anything in cosmetic dermatology. And a crooked painting.
What are you usually sipping from during the day? Jack's Stir Brew coffee.
What calms you down? My black Labrador retriever, Radar.
Comfort food: Mexican.
Vice: Chilled vodka.
Most impressive dish you make: Grilled whole branzino with capers and lemons.
What food would you never eat? Liver.
What do you foresee as the top beauty/wellness trends for 2020? In the past few years, anyone and everyone is claiming to be an expert in skin care and cosmetic dermatology on social media. However, now the pendulum is swinging back toward true medical and cosmetic expertise.
What product in your own product domain is misunderstood and should be a best seller? Colbert MD Retensify, because it's important to treat your neck and décolletage the same way you treat your face. It's the richest cream on the market with active ingredients that boost elasticity and suppleness of the face, neck, and décolletage.
What product is currently your favorite (understanding that this could change all the time)? Colbert+ CBD Face Oil. It combines our hero product, Illumino Face Oil, with 2 percent organic CBD and essential oils that brighten and rejuvenate the skin.
If you won the Power Ball tomorrow, what are the first five things you would do? (After, of course, donating the majority of it to your top charities …) Take all friends and my dog to the Maldives to go surfing. Buy an apartment with a balcony and fireplace. Get a Raymond Pettibon painting. Buy a farm in Basque country. Open free veterinary clinics across world.
Not to get too philosophical, but … what do you want? Freedom from sugar.