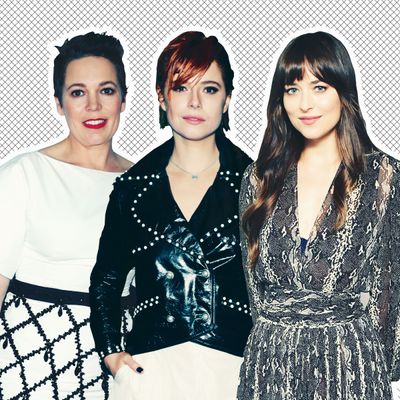 Maggie Gyllenhaal's directorial debut, an adaptation of Elena Ferrante's 2006 novel The Lost Daughter, is shaping up to be a movie I can't wait to see. The film has been in the works at least since Ferrante herself announced the project in an essay for The Guardian back in October 2018, and Gyllenhaal quickly confirmed, telling the audience at the New Yorker Festival that the reclusive author had given her the film rights on the condition that she direct it. That the film already has Ferrante's imprimatur is exciting. On Wednesday, Deadline published the casting choices, and now I'm even more convinced this was all a good idea.
According to Deadline's description, Olivia Colman will star as Leda, "an elegant college professor on a seaside summer vacation." Leda "becomes consumed" by an apparent stranger, a young mother named Nina, played by Dakota Johnson, whom she watches hanging out with her daughter on the beach. Then: "Unnerved by their compelling relationship, and their raucous and menacing extended family, [Leda] becomes overwhelmed by her own memories of the terror, confusion, and intensity of early motherhood." Chernobyl's Jessie Buckley and Gyllenhaal's husband, Peter Sarsgaard, are also set to star. Gyllenhaal said of the film, "When I finished reading Elena Ferrante's The Lost Daughter, I felt that something secret and true had been said out loud. And I was both disturbed and comforted by that. I immediately thought how much more intense the experience would be in a movie theater, with other people around."
What I'm hearing is that this movie is Olivia Colman remembering shit while becoming mesmerized watching Dakota Johnson chill on a beach. Tell me more! Either I'm gonna enlist Cory Booker to read this novel aloud to me over the phone or I'm gonna see the movie. Leaning toward the latter!