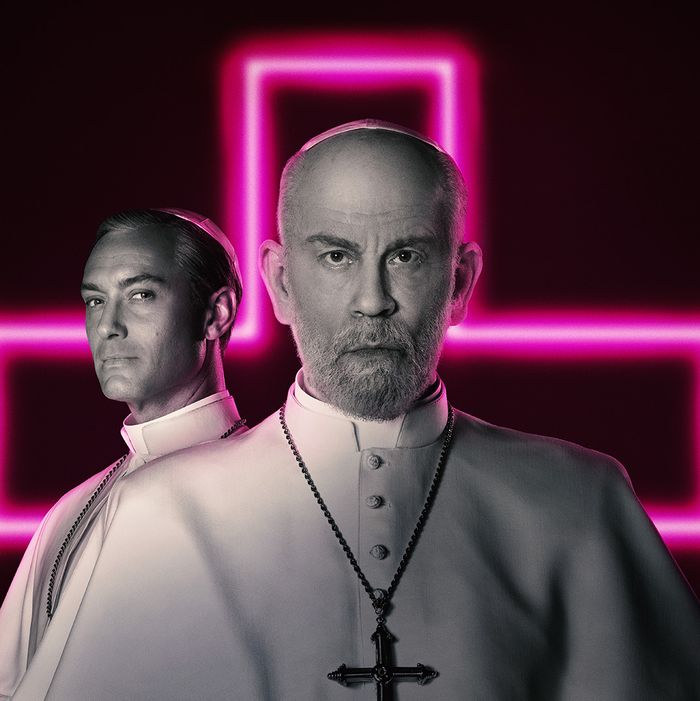 The horny pope show is back. Habemus sexy papam. After a three-year gap, HBO's The Young Pope — Paolo Sorrentino's show about Pius XIII, a young, hot pope played by Jude Law — returned in January, only now it's called The New Pope, and instead of Diane Keaton wearing a nun's habit, it features John Malkovich wearing eyeliner. Like its first season, The New Pope is an absurd, neon-colored tale of excess and palace intrigue. Well, as far as I can tell. I've only watched the first two episodes. They were good, and I would encourage you to watch them if you have a couple of free hours. But I'm not here to talk to you about the two episodes of The New Pope that I've watched, I'm here to talk to you about the soundtrack of The New Pope, which I've been listening to almost constantly for over a month.
I found the soundtrack when I was looking for "Good Time Girl," the Sofi Tukker song that plays in the opening credits while a bunch of young nuns in sheer nightgowns writhe languorously around the foot a tall neon cross. "Here I am playing by myself," Tukker sings indolently, "Me and my superiority complex." Cool, I thought.
It was only after listening to "Good Time Girl" on repeat for a few days that I decided to explore the rest of the soundtrack. Listening to it — a mix of classical, pop, and electronica — is like moving through water. The songs have a moody, liquid, sensual feel to them. There's Lily Allen in "What You Waiting For" singing about being suffocated by all the empty space in her head; Arum Rae in "Should I" wondering if she should hold back on date or let go; recompositions of Bach's Cello Suites by Peter Gregson.
The New Pope soundtrack makes me feel cool, lonely, excited, sad, and a little angry all at the same time. It makes me want to put on a fur coat and red lipstick and then lie despondently on the floor for an hour, staring at cracks in the ceiling, or slip into a grimy basement club for an hour on a weeknight, alone, make out with a stranger in the bathroom, and then leave. It is music to listen to when you finally say, "Fuck it," and send a risky text to that person you like, or while you smoke a cigarette on your stoop and mentally draft perfect, icy insults you will probably never deliver.
Those aren't things I ever actually do in my life. I hate going to clubs, and smoking even one single cigarette leaves me with a hacking cough for days. Mostly, I just listen to the soundtrack while I'm walking from the subway to my office, or washing dishes, or taking my dog out to pee. But it's nice, while I'm picking up after my dog, or taking an escalator with a bunch of people wearing the same neutrally colored direct-to-consumer clothes as me, to slip for a while into an imagined world where I'm much cooler and more dramatic than I actually am, and where the pope is hot and wears a tiny white papal Speedo. Amen.