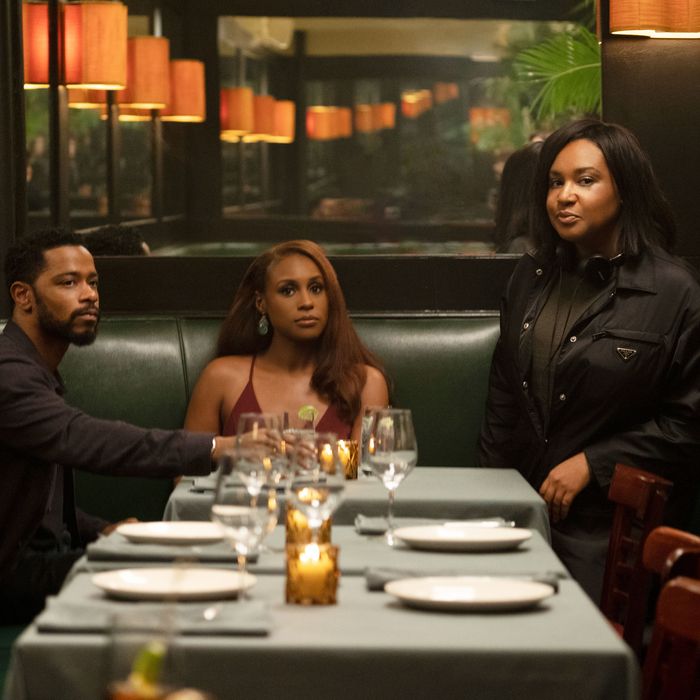 Photo: Sabrina Lantos/Universal Pictures
The Photograph is a film full of poignant flashbacks and murmured conversations; it tells a winding love story between Mae Morton (Issa Rae) and Michael Block (LaKeith Stanfield), swaying between uptown Manhattan and verdant Louisiana bayou. It's a story about family and history that centers black love, themes that director Stella Meghie says she's most at home in: "I love exploring romantic situations. I'm a big romance person: Love & Basketball, anything Nora Ephron, Nancy Meyers. But I also love comedy and exploring family."
Meghie is best known for her adaptation of Nicola Yoon's YA novel Everything, Everything and recent project The Weekend, both of which are stories about the same kind of romances and family dynamics that drive The Photograph. Ahead of the film's Valentine's Day release, we spoke about the movie, whether she's optimistic about the state of Hollywood, and the importance of a perfect soundtrack.
How did the idea for the screenplay come to you? 
At the time that I was writing the film, my grandmother was going to meet a daughter she hadn't seen in over 30 years. There was this mixture of fear and excitement and guilt, and it just started to make me think about what it must be like if you thought about someone every single day for decades — but hadn't spoken to them. I flipped that idea into a more romantic version for the characters of Christina and Isaac.
How did you end up casting Issa and LaKeith as the main couple?
I'd just directed an episode of Insecure with Issa, and sent her the script and she loved it. LaKeith came a while later — it was really a hunt to figure out who Michael was going to be. But when they got together in the same room, the chemistry was so immediate. The first thing they read together was the first-date scene, where they're in the booth together. I had just rewritten it, and I had the dumbest, most ridiculous smile on my face as they were doing it.
The film's soundtrack is amazing. It was a mix of two different time periods, and melded so well with the flashbacks. Can you tell me more about creating it? 
I'm obsessed with music. It always feels like there's only one right song, and you just have to find it. Because it was set in the present and the '80s, I got to use all my favorite artists in the present day, like Ari Lennox and Anderson .Paak. And from the past, we got to use Patti LaBelle, Luther Vandross, Chaka Khan — it was so much fun. If it's the wrong song, the whole theme just falls apart for me.
What were some of your inspirations for The Photograph, and for yourself as a filmmaker in general?
Love Jones. I watched that film a million times when I was a teenager. I still watch it at least once a year, so that was a major romantic inspiration, just how lush and moody and dark it was. All the smart conversations and messed-up people just trying to get it right.
The film that was peaking when I was in film school was Slums of Beverly Hills, Tamara Jenkins and Natasha Lyonne, and I used to watch that so much; I had it on repeat. I used to watch a lot of Pedro Almodóvar too. Also, She's Gotta Have It kind of gave me the courage to write the most bourgeoisie characters I felt like.
Are you optimistic about Hollywood at the studio level?
Some things are changing, in the sense that people have been put on notice, that everyone can't look exactly the same in every room. People are a little more aware when they're being monolithic about who they're hiring. But it's harder to be a female director; people trust you less, and you're forced to prove yourself move. You don't have doors closed for a century and open them and things are perfect.
I don't know if I'm optimistic. And you see things like what happened with the Oscars [nominations], and it's like, why should you be optimistic? When Greta Gerwig and Lorene Scafaria and Chinonye Chukwu — people who really should be getting awarded — are not, I can't say I'm optimistic as yet. So much has to change, and it's going to take decades for it to get somewhere.