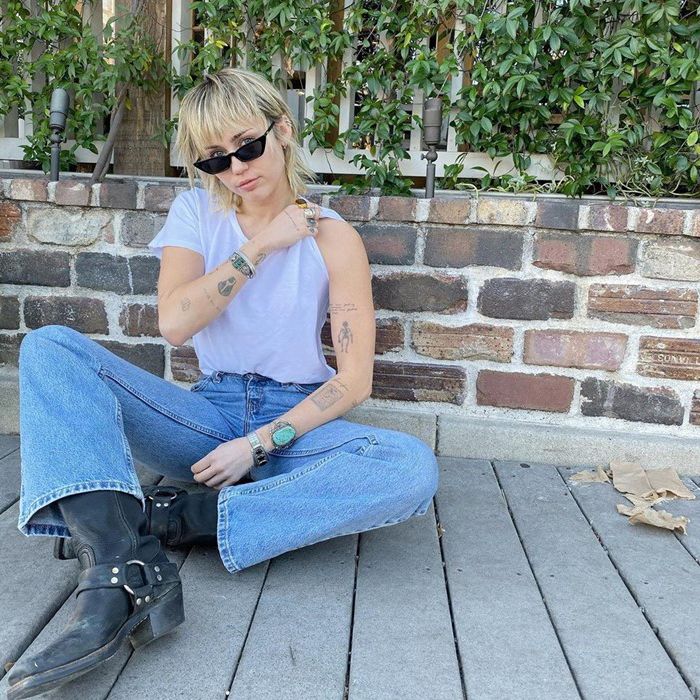 Miley Cyrus.
Photo: @mileycyrus/Instagram
Sometimes, you feel the inexorable pull toward something or someone you can't explain. It's a gravitational thing, like the planets, universe, and stars all had a talk and said, "Yes, it's time." Bangs operate this way, of course. And now, thanks to a California-based hairstylist named Jayne Matthews, so does the modern-day mullet.
In 2019, Cut writer-at-large Kelly Conaboy wrote about on the emergence of "the Instagram shag haircut," an updated interpretation of the '60s and '70s look popularized by Brigitte Bardot and Jane Fonda. Despite its fame, it appeared that this style was relatively contained, to people in California (like Miley Cyrus) and those who shop vintage on Etsy.
But a new report suggests that the influence of the haircut is growing stronger. The New York Times did a "Work Diary" of Matthews, who has continued to disseminate "before/afters" of the chop on Instagram. Matthews talks more about the style, explaining her technique of carving "petals into hair." Clients now often fly to the Bay Area for cut with her at her salon, Edo.
In the course of one week, Matthews works on clients from Salt Lake City and New York. She explains that she gets Instagram DMs daily from London, Berlin, Paris. She also flies into New Orleans to do an education workshop. This means that yes, "the cut" is spreading, and doing so quickly. Matthews also hopes to one day offer online classes.
According to Matthews, her clients "are usually between the ages of 28 and 45. It is usually the girl who likes her expensive stuff worn in. She's understated but not messy, she doesn't have a lot of plastic surgery, she's a farm-to-table girl who doesn't shop at department stores." If this sounds like you or someone you know, be careful. Haircuts on Instagram may be larger — and harder to grow out — than they may appear.