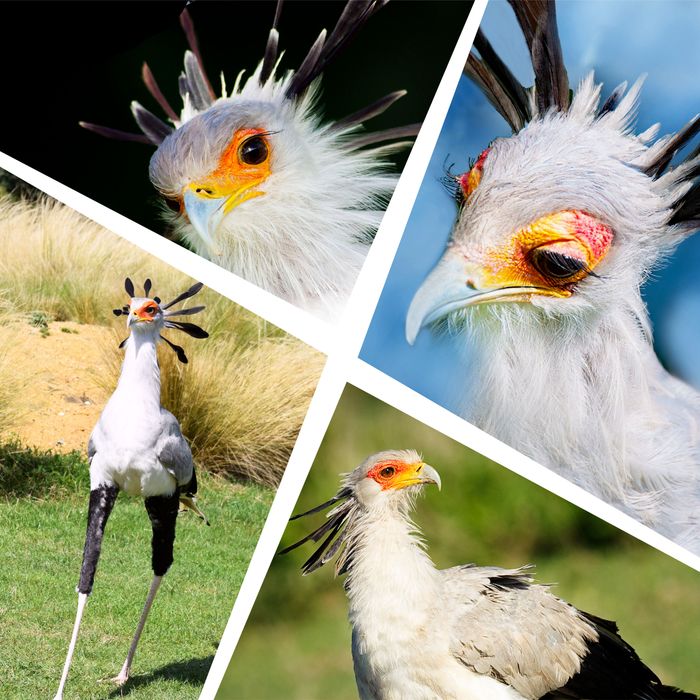 Secretary bird
Photo: Getty Images
How lucky we all are to walk this extraordinary planet, and to coexist with so many other remarkable life forms: slothful cave salamanders that refuse to move for years. Marsupials that quite literally die after marathon mating sessions. And a bird that's so alluring, I will spend the rest of my life in awe of her exceptional beauty.
As a burgeoning bird fanatic, I have recently started to find my eyes instantly drawn to any sort of winged-creature content, whether that be a video on Instagram or an article on the World Wide Web. So today, when writer Jordan Blok blessed my Twitter timeline with three images of what I would describe as the sexiest bird I've ever seen, I stopped dead in my tracks, my mouth agape. "Thinking about ~her~," they tweeted, alongside the stunning photos of beauty incarnate. And now, same.
I cannot stress this enough: Everything about this bird is sensual as hell. Let's start with her name: secretary bird (hot). Next, her scientific name: Sagittarius serpentarius (incredibly voluptuous, which according to multiple translation websites, means "sexy" in latin). Her lashes are extraordinarily long. Her slender legs go on for actual miles. And she has this mysterious look on her face, which communicates, I'm going to peck your eyes out so I'm the last thing you see. And … I would welcome it! Render me blind you stunning queen. If you're the last thing I see, I would count myself lucky.