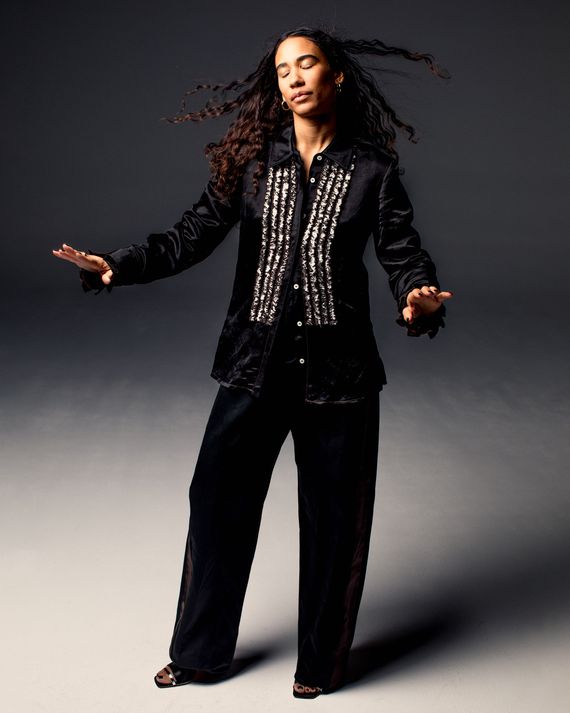 Meghan Markle and Prince Harry's first interview as a couple has been seen by over 10 million people on YouTube. Maybe you recall the way they looked lovingly at each other, their jokes about "trying to roast a chicken," Meghan's insistence that she could barely let Harry finish proposing before saying yes. Artist Lacey Lennon certainly knows it. She did a re-creation of the interview as part of her Yale MFA thesis, which also included a video called Meghan Markle Being Softly Spoken To. The Slave Play playwright Jeremy O. Harris named it one of his top-ten favorite performances, calling Lennon "a studious observer of the ways black women are cast by society and themselves."
In addition to working in video and performance, Lennon is a photographer, primarily interested in black and mixed-race women, how they do or don't perform for the camera, and the beauty of everyday situations. She describes her process as "quite hermetic," and says that teaching at Parsons and Yale Norfolk has been a welcome antidote to that isolation. Her next class is about "identity" (air quotes her own). "That's the next challenge," she said, "is to explore how we think about making work around identity." We spoke with her about Stevie Wonder, Prince, and weaving.
If you were running for office what would your campaign song be and why? To begin my teaching week, I listen to Stevie Wonder Inner Visions to get myself ready for the world. So maybe it would be the whole album.
What kind of animal would you be and why? A cheetah. They're super-slick, they're fast, they roam, and they're by themselves. They're beautiful and they move in ways that are so remarkable to me.
What are you excited about right now? I'm excited about all of these movies that I finally have a little bit of time to go and see. I wanna see Parasite. I'm also excited about basic things. I'm excited about my niece who is starting to talk a bit, I'm excited about being able to go to acupuncture, I'm excited to see my friends.
What are the last three songs you listened to? Prince's Piano and a Microphone 1983 was released in 2018 after he passed. That entire album is amazing. I listen to whole albums on repeat. Someone described the album as an "exquisite doodle" and I love that.
If you could have a superpower, what would it be? I would be able to take pictures with my eyeballs alone.
What's your idea of a perfect day? Not waking up to an alarm. I'd like to have a really human and normal conversation that is both stimulating and real. Those kinds of conversations are hard to come by, I think. Perhaps being outside, in a new place. A perfect day for me is relinquishing control a bit and not saying, "I have to accomplish this, this, and this." Instead, just allowing things to come into my life that I couldn't have anticipated.
If you could master any skill that isn't related to your current job, what would it be? Weaving. It's something that feels like one of the most necessary types of art, because it has a function as well. I admire people who make weavings. I had a student who was weaving, and I was really interested in how slow the process was and how kind of beautiful it is as well.
I also wish that I could master making pies. I worked with an artist this summer who made pies, and I admired her ability to put in a full day's work at the studio, prepare dinner, and make a pie. I was just like, "How are you so together that you can do that in a day?" It's such a sensorial thing, like weaving.
What piece of advice has had the biggest impact on you? 
Move at your own pace, or set your own pacing.
Lacey wears a Wales Bonner top and pants with a David Yurman ring.