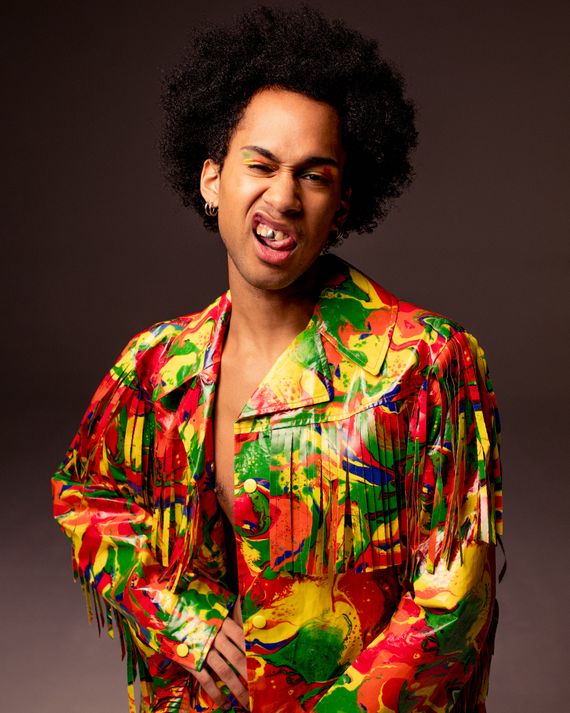 By day, Jamont Hanshaw is a senior at the Fashion Institute of Technology, studying international marketing and business, but he considers himself an artist. For him, that covers his burgeoning career as an art director, a model, and a DJ under the moniker HoodRich J. He's produced music for i-D magazine and modeled for W and Vogue. His Instagram feed is mostly photos of himself and occasionally of Prince — they share a gracefully androgynous vibe. "I've always been into art," he said. "My dad is a videographer and a DJ. My sister, she's a doula. They're really into being your own business and having your own say." We spoke with him about the three artists who inspire him, sphynx cats, and NeNe Leakes.
Where do you get inspiration?
From the internet, my upbringing, and my surroundings.
Who are three creative people that have had the biggest impact on you?
Azealia Banks, Solange, and MIA. Banks is really true to herself. Solange, I know she lived in Beyoncé's shadow, but now she has such a strong name that's different. You can tell she trusts herself. MIA comes from a background where you're supposed to be a certain type of person, but she's revolutionary. I love artisans who are true representations of themselves.
If you were on Real Housewives, what would your tagline be? 
Probably something like "I said what I said and I do what I do." Like NeNe Leakes. 
If you were running for office, what would your campaign song be? 
"Dipset Anthem" by Juelz Santana.
If you were an animal, what kind of animal would you be? 
What are those hairless cats? I would be a sphynx cat.
What is something you're excited about right now?
I'm excited about the future. I have a lot of different projects going on, a few different agencies I could go to. I'm also graduating this year, so I'm excited about that and traveling.
What were the last two songs you've listened to? 
"Walk on By" by Isaac Hayes and "Venus As a Boy" by Björk.
What superpower would you have and why?
I always think about this. I think it would be the ability to get people to do what I say.
What is your idea of a perfect day?
Driving in a G-wagon in the sunset in Malibu, going to the beach, eating a lot of ice cream, and DJing.
If you could master any skill that isn't related to your current job, what would it be? 
Perseverance. I can't take obstacles personally. I would like to look more optimistic and keep going instead of stopping.
What fictional characters do you relate to the most? 
The guy from the Pursuit of Happyness, the one Will Smith plays. I feel like I'm always fishing for new ideas. People are always going to say no, but you have to keep looking forward. And he kept on getting nos. He lost everything, and then he regained it because he kept going.
What piece of advice has had the biggest impact on you?
Always finish what you start. I went to karate school from when I was 5 up until I was 13. My teacher told me to always finish what you start.