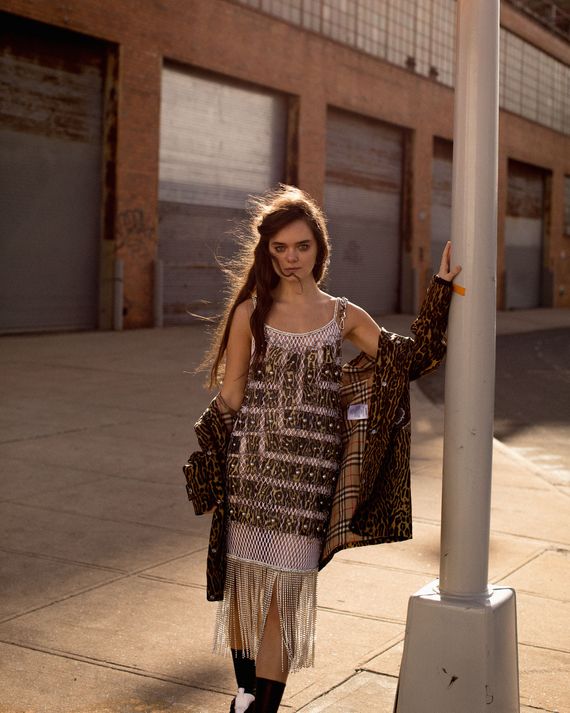 Even though the industry has plenty of wunderkinds, it's hard to be an EDM star when you're a teenager. But Callie Reiff has been determined to be a DJ since she could barely reach the sound board. Before she was a DJ — and keep in mind she's 20 years old — she was studying at the School of American Ballet. She left the school at 12 and started drumming. "I wanted to rebel against ballet and do what was opposite, which was drumming," she said. Drumming quickly evolved into an interest in EDM.
She enrolled in DJ classes at Dubspot in New York and stood on a step stool to reach the mixer. But it's frustrating to be a tween DJ because you can't experience the music in person very often. At 15, her DJ teacher snuck her into a show. Afterward, she sent the promoter a friend request on Facebook and messaged him, asking him to hear her music. He did, one thing led to another, and she booked her first gig at Webster Hall, playing an Electric Zoo afterparty. "I went in with my parents, X's on my hands, and there was a security guard watching me at all times," she said. "It felt like I was a big celebrity, but it was just because I was 15."
Now, she's playing with Deadmau5 in New York, and Skrillex recommended her to William Morris Agency, where she's now signed. We spoke with her about Beyoncé, the last songs she listened to, and yoga.
If you were a Real Housewife, what would your tagline be? 
When I have a house husband, I'll let you know what his tagline would be.
If you were running for office, what would your campaign song be? 
It has to be a really empowering song. Probably Beyoncé, like "Run the World."
If you were an animal, what would you be?
Probably a dolphin. I love the ocean, and they bring so much joy.
What is something you're excited about right now? 
There's so much happening this year. I recently did a few shows with Deadmau5 on his tour and I'm playing with him at Avant Gardener in Brooklyn for four nights, February 6 through the 9th. It's ending his whole tour in New York.
What were the last three songs you listened to? 
"Don't Start Now" by Dua Lipa, "Midnight Hour" by Skrillex, and "I Think" by Tyler, the Creator.
If you had a superpower, what would it be?
Teleportation. It makes travel easy.
What is your idea of a perfect day? 
It revolves around playing music, drinking boba tea, and being with friends and family.
If you could master any skill that isn't related to your current job, what would it be?
Yoga. I just got into it. I thought my ballet skills would transfer over.
What piece of advice has had the biggest impact on you and why?
Practice makes perfect. I was ready to play Webster because of all of those hours preparing and practicing for that big moment.
Callie wears a Burberry coat, dress, and shoes.