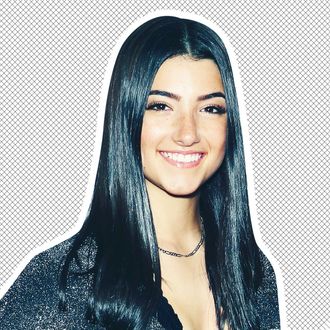 If you're on TikTok or around teens frequently, you've probably heard of Charli D'Amelio. She's a 15-year-old dancer with 28.4 million followers on TikTok and 7.6 million on Instagram. To understand her level of fame among teenagers, think Britney Spears circa Y2K or Miley Cyrus in the Hannah Montana era. Until recently, you sort of had to be on TikTok to know her, but that's likely to change soon. One early warning sign: She was at the Prada show in Milan, sat front row next to Derek Blasberg, and made a TikTok with some of the models.
Welcome to high fashion, TikTok teens! First one who gets Miuccia to do the Renegade has my eternal admiration.
TikTok stars today are what bloggers were ten years ago. Think back to 2009, when D'Amelio was 5. When Dolce & Gabbana put four bloggers including Bryanboy and Garance Doré at the front that September, it sent tremors through the industry. Who were these newfangled fashion plates taking front-row seats from the editors? Fashion publications covered the phenomenon with such fervor that Gawker had to declare the genre of trend piece "over." The coverage seems quaint now, as I'm sure this blog post will in ten years. Just as we're all used to seeing Bryanboy in the front row, Charli will likely be a staple soon enough.
Prada is not the only brand to invite Gen-Z stars to its events. Emma Chamberlain vlogs for Louis Vuitton, Celine cast Noen Eubanks in an ad, and Dolce & Gabbana had TikTok stars Chase Hudson (a.k.a. Lil Huddy, who is linked romantically to D'Amelio) and Loren Gray at its most recent show in Milan. I also saw Hudson at a Fendi event during New York Fashion Week. The Europeans, clearly, have caught on. The guard is changing.