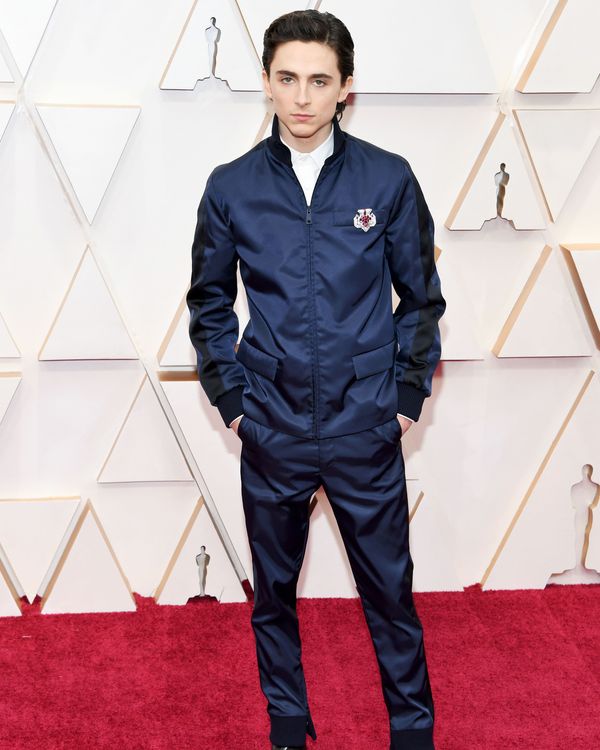 Timothée Chalamet at the 2020 Oscars.
Photo: (C)Kevin Mazur/Getty Images
Timothée Chalamet had ONE JOB on Sunday night. He was not nominated for any Oscars this year, so all he had to do was show up and run us over at full speed with his outfit, as he's done so many times in the past to our great satisfaction. Instead, he showed up dressed like … An average cool guy.
Early in the evening, before Timothée had even arrived on the red carpet, an image began circulating on Twitter of what looked like the back of his curly head wearing a Ludovic de Saint Sernin outfit that took my breath away. Well, what I could see of it did, anyway. The tweet has since been deleted, but the outfit pictured was a sheer, light-purple backless bodysuit. There's more: In between back bones so pointy they could only be Timmy's hung a thick, bedazzled necklace. Seeing this, I started shaking with excitement. "Choke me," I told the Cut Slack without hesitation or regret. I could only imagine how good this outfit would look from the front when Timothée arrived on the red carpet at long last!
Sigh. What a letdown. What an emotional roller coaster. I'm so upset. Why am I so upset? Let me be clear: Timothée looks good in Prada and Cartier brooch. He's not wearing a traditional suit like Leonardo DiCaprio, or every other boring dude who was nominated whose names I've already forgotten. Out of context, I'd approve. But we're waaaaaay past a suit like this being the most interesting option out there for men, in part because of Timothée Chalamet himself! He's raised the bar! We've been trained to expect more from him, and this outfit is casual by comparison. I don't want good at the Oscars, and I certainly don't want casual. I want greatness. I want a backless bodysuit and a diamond choker. I feel robbed.
The minute Timothée arrived, Twitter lit up with comparisons to valet-parking attendants and gas-station managers. To me, he seemed to be doing "Frank Ocean at the Met Gala" cosplay, as he's always been a fan of Frank Ocean. But Timothée Chalamet should know that only Frank Ocean can do Frank Ocean.
Thankfully, there were a lot of other great looks on Sunday night to make up for Timothée's blunder, and I look forward to him reading this article and making it up to me, personally. I will accept face-to-face apologies only.